Watch: McLaren F1 – the details | evo Diaries
Henry Catchpole reveals the F1's lesser-known details
Join evo's Henry Catchpole as he takes you behind the scenes of our recent McLaren F1 v P1 video. In this latest episode of evo Diaries, Henry shares with you the idiosyncrasies and unique features of one of the most remarkable supercars ever made. 
With values now climbing to around £10million – if you can find an F1 for sale, that is - such unrestricted access is unheard of, but for two days we were given unlimited access to Gordon's Murray extraordinary creation. To be able to drive it alongside its 21st Century cousin, the P1, was a once-in-a-lifetime experience.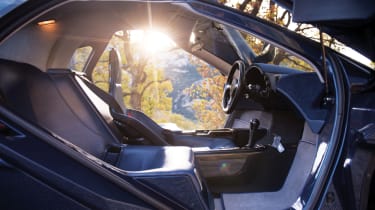 The F1's performance figures are already the stuff of legend, but it's worth remembering just how advanced this car was 20 years ago when it first arrived on our roads. The BMW Motorsport-built, naturally-aspirated 6-litre V12 produces 627bhp, a figure that allowed the 1137kg supercar to accelerate to 60mph in just 3.2sec. This in a car with a manual gearbox or no traction control, and built at time when launch control was confined to the starting grid of a Formula 1 race. But the F1's defining number was its record breaking top speed: 240mph. Even its far more powerful successor the P1 can only manage 217mph, more than two decades later…
It's not just the impressive numbers Paul Rosche's engine produces, though. The F1's rawness ensures that the lucky ones who get to drive McLaren's original supercar are immediately grabbed by, not only its gorgeous V12 soundtrack and razor sharp throttle response, but a chassis among supercar greats. If there's one single car that represents The Thrill of Driving, McLaren's F1 comes close to perfection.
Gordon Murray visualised the concept of the F1, and led the car's development from an original idea formulated in a lounge at Milan airport, through to production on a Woking industrial estate. But even the best engineers and designers can find fault with their finished product, and as Henry Catchpole reveals, there is at least one feature that made it on to the finished car that the perfectionist Murray wasn't happy about.
So sit back and enjoy this exclusive tour of one of the most remarkable cars ever made and a supercar like no other. The F1's successor, the P1, is a technical tour de force, a hypercar that can go tyre-to-tyre with Ferrari's LaFerrari and Porsche's 918 Spyder, but we doubt we will ever see a car produced with such fastidious attention to detail as the McLaren F1. Enjoy our video.