McLaren F1: Fastest ever test - McLaren F1
The McLaren F1 shoots for the fastest time on the Bedford Autodrome West Circuit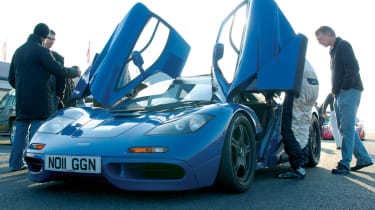 The owner's fine words as we fired up Gordan Murray's creation: "May I remind you that the chassis stinks, it has no downforce, and the brakes don't work. But it's got a good engine!"
Exactly the words we want to hear when we're about to throw a million quid's worth of iconic supercar around the West Circuit under the gaze of a pit-wall full of onlookers.
Look out for an astonishing 'catch' as Richard Meaden gets the F1 very sideways coming out of O'Rouge at a speed you'd much prefer all your wheels to be pointing in the general direction of travel.