evo Magazine February 2015 - McLaren F1 v McLaren P1
McLaren P1 takes on the legendary F1, Camaro Z/28 driven, evo Track Car of the year, Porsche Macan S takes on rivals, all in evo 205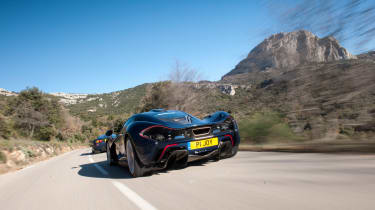 McLaren P1 v F1
Two seminal supercars, two days in the south of France, one verdict. More than 20 years since it ripped the road car rulebook to pieces, how much of the McLaren F1's residual purity exists in the ferociously complex P1? Richard Meaden has the onerous task of finding out.
Abarth 595 Biposto
Fiat's humble 500 undergoes its most severe transmogrification yet. Does copious carbonfibre and titanium and a dog 'box justify its stratospheric price tag? Henry Catchpole travels to Varano in Italy to pass judgement.
Camaro Z/28
Reports suggest that America has built its first true Porsche GT3 RS rival, and on the spec sheet Chevy's 2015 Camaro Z/28 looks every inch the track demon. Jethro Bovingdon visits the City of Angels to confirm the stories.
Porsche Macan S v Audi RS Q3 v Mercedes-Benz GLA45 AMG
Fast crossovers - who doesn't love 'em? Well, we at evo weren't convinced, so we sent Bovingdon to group test the best offerings out there, with a surprise winner...
Tuthill GT3 R-GT
Rallying stands on the cusp of an exciting new super-based era. Catchpole meets the man leading the revolution and drives an extraordinary Porsche 911 GT3.
BMW Z1
Not many cars are famously solely for their doors, but is there more to BMW's divisive Z1 roadster? evo's prodigal son Stuart Gallagher clambers in.
Track car of the year
It's our most eclectic group of TCoty contenders ever - and one in particular stands out.
New cars driven
Peugeot 208 GTi 30th Anniversary
Land Rover Discovery sport
Rolls-Royce Wraith
RPM Technik 996 CSR
Mercedes S63 AMG Coupe v Bentley Continental GT Speed
>Buy - evo Magazine 205 February 2015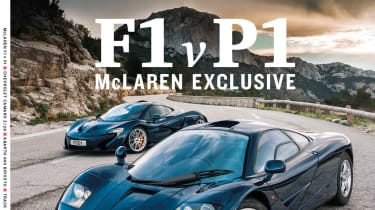 News
Ferrari's latest XX programme is revealed, we have details of a fierce new hot hatch from Audi, and Ford hints at a dozen new performance models for us to look forward to. Oh, and Bond has a new Aston Martin.
Columns
Meaden smells hatchback warfare, Porter's innovative solution for drivers who text, and Franchitti finds a future icon.
Letters
Purists, cover your ears. Porsche 911s need turbocharging - and so does the MX-5. Elsewhere, we'll all soon own LaFerraris.
Long-Term tests
Meaden sheds a tear as his R8 V10 Plus heads home to Audi, while Bovingdon says hello to its little brother - the S1. And that car's spiritual predecessor, a Lancia Delta Integrale, also joins the fleet.
evo Knowledge
Catch the Honda NSX while you can or use the same money to indulge in one of Audi's hottest TTs. And Essentials has yet more ways to part you from your cash...
Art of Speed
David Vivian lays all the speculation to rest and investigates exactly what those fins on the back of an Evo IX are for. Clue: it involves vortices.