Mercedes CLS 350 CGI
Solid build, graceful design, luxurious interior, except for the steering wheel...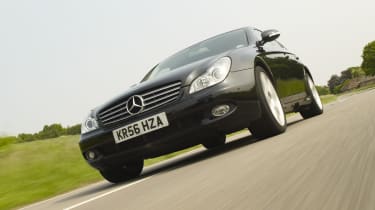 Something people who only ever see the outside of a CLS perhaps don't appreciate is how special, and how different to that of an E-class, the interior is. Even peering in from the kerbside – an extra murky experience with our car's darker tints – fails to convey the feeling of security and privacy afforded by that high, gently arching waistline and the shallow, almost gun-turret-style glazing.
Some might even find the ratio of glass to black leather and glossy piano-black wood oppressive. And on these grey winter afternoons, the all-enveloping effect is unusual to say the least; an imaginative passenger commented that it must be what travelling inside an expensive gentlemen's wallet would be like.
Whatever, I never tire of it. The graceful architecture is matched by a reassuring feeling of well-damped solidity – door 'tizz' that has persisted since day one notwithstanding – and the fit and finish are generally exemplary. Audi and Lexus may build-in a classier and more tactile feeling of quality, but the Merc's toughness and durability (the interior simply isn't showing any signs of wear despite a far from pampered life) is arguably a more valuable long-term asset.
Perhaps Mercedes applies the same zero-wear philosophy to the steering wheel, but I wish it wouldn't. It's just not the sort of rim that gives you any pleasure to wrap your mitts around: utilitarian at best, cheap-looking at worst. It was the same with the S-class I borrowed while the CLS was getting its new set of wheels fitted: state-of-the-art cabin and a steering wheel from a taxi. There are more luxurious steering wheels in the options catalogue, of course. But they cost.
Running Costs
| | |
| --- | --- |
| Date acquired | December 2006 |
| Total mileage | 13,705 |
| Costs this month | £0 |
| Mileage this month | 960 |
| MPG this month | 28.1 |