Mercedes CLS 350 CGI
Some 3000 miles after the new wheels and tyres were fitted, I can report that they're still all perfectly round...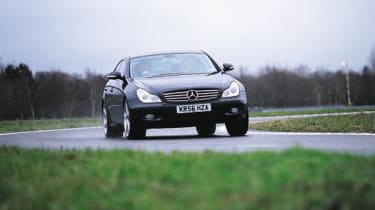 The slightly moot point is whether I should be driving quite so assiduously to avoid potholes and other exports from the moon's surface that pass for roads in some parts of Kent. Before, I was merely careful; now I dodge them as if they were landmines.
Mind you, it's been clear from day one that the partnership of CLS suspension and 19in AMG rims doesn't like short, sharp shocks, transmitting a wince-inducing thud through the body structure even with the electronically adjustable dampers on their softest setting. This seems at odds with the ride comfort in general, which is good, if not exactly limo-like.
But for the need to monitor any vibrational tendencies over the second leg of this test, I think I'd have opted for the 18-inchers with plumper tyres and probably just sighed a little sigh every time I parked up and looked back to admire the arch-filling stance only the AMG alloys can supply.
Running Costs
| | |
| --- | --- |
| Date acquired | December 2006 |
| Total mileage | 10,650 |
| Costs this month | £0 |
| Mileage this month | 915 |
| MPG this month | 28.2 |