Video: Mercedes-Benz SLS record attempt
Mercedes-Benz has teamed up with pro-golfer Jake Shepherd and David Coulthard to set a new world record...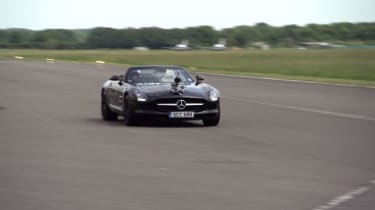 Former Formula 1 driver David Coulthard and pro-golfer Jake Shepherd have both teamed up with Mercedes-Benz to set a Guinness-approved world record, in the SLS Roadster.
Coulthard, at the wheel of the SLS, had to catch a moving golf ball while driving at full speed. Professional golfer Jake Shepherd hit a golf ball, timed at at 178mph, into the SLS, which was moving at 120mph when it caught the ball 275 metres away from the tee.