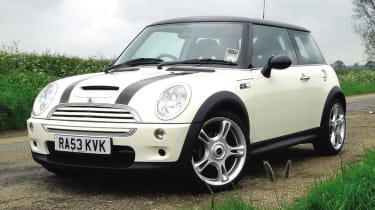 I've been wearing a groove in the A14, M11, M25 and M23 this month, with four trips to Gatwick. My heart always sinks when a launch invite mentions the place, for it's about the furthest airport from Meaden Towers, and invariably requires a hideously early start, the most sadistic of which had me setting my alarm for 3:30am.
Still, the early starts mean empty motorways, and the S Works is surprisingly adept at eating miles. The tall gearing that feels overly long for B-road blasts is just right on the motorway, with a little over 3000rpm in sixth enough to mope along nicely. Obviously, the novelty of a clear motorway means that a 3000rpm cruise soon becomes 4000rpm, at which point the Works is tearing along demonically. Driven thus the Mini also guzzles fuel, using more than half a tank to do the 120-mile journey. That equates to little more than 20mpg, which is pretty terrible for a small car.
All this nocturnal driving has also compounded my opinion that the Xenon lights are set too low on dipped beam, a view shared by Cooper S-owning Neville Contractor who e-mailed fastfleet@evo.co.uk to bemoan the expensive headlights' stunted spread of light. I've also taken a passionate dislike to the door bins, which are absolutely useless at carrying anything more than old sweet wrappers. There's no glovebox either, so CD cases, maps and the like end up scattered messily in the passenger footwell or clattering around in the boot. It's a failing that's beginning to drive me absolutely bonkers.
Gripes aside, the Mini is wearing well. The interior is proving mercifully rattle- and squeak-free, thanks, I believe, to not ordering the car with a sunroof, while the paintwork and wheels respond well to a good scrub.
Running Costs
| | |
| --- | --- |
| Date acquired | January 2004 |
| Total mileage | 13,927 |
| Costs this month | £0 |
| Mileage this month | 1055 |
| MPG this month | 23.2 |