Mini Cooper S
The new-car love affair with our Cooper S is wearing off on Jethro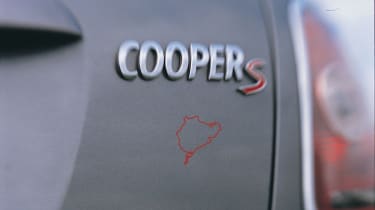 The Mini is filthy, I've not had time to take it in to our local dealer to have the increasingly annoying rattle remedied and the miles just keep racking up. Yep, new-car euphoria has worn off. But the Mini continues to worm its way into my affections. It's just so capable, so usable and so bloody quick. About to get quicker, too. There's a Works tuning kit with my car's name on it and hopefully it'll be fitted in the next month or so.
I've been playing with the 'Sport' button recently. It's designed to give the Mini a more immediate, responsive feel – quickening the throttle response and removing some of the electrical assistance for the power steering system. The throttle element of it is fine – not too jumpy (unlike our Vectra VXR on 'Sport'), and only subtly quicker than the standard program. However, the steering is much less impressive. The added weight feels artificial and gives the impression that there's more inertia to overcome before the front tyres will start to turn. Worse, all the nuances of weighting and the finesse of the Mini's precise and communicative rack disappear. I won't be using the Sport button again.
I tend to leave the traction control button alone, too. It's super-effective and does seem to manage the torque and slip with all the control of a limited-slip diff. In some respects it's slightly better because you don't get the torque-steer sometimes associated with an lsd (although there's more tug as the tyres wear down). Turn off the system and the lack of a diff is all too apparent. Use all of the torque and the wheels spin-up very quickly and understeer skates you across the road. It's a frustration that such a well-balanced chassis almost demands you leave the electronics dialled-in to manage the slip. The best of both worlds would be the sophisticated traction control married to a mechanical lsd – just like the previous Cooper S. I wonder when a diff will appear on the options sheet?
Running Costs
| | |
| --- | --- |
| Date acquired | May 2007 |
| Total mileage | 5867 |
| Costs this month | £0 |
| Mileage this month | 1288 |
| MPG this month | 32.0mpg |