Mini Cooper S
Is the 189bhp works kit worth the outlay? We find out
Finally had the chance to try a Cooper S fitted with the £1545, 189bhp Works kit. It was fascinating, but not just because of the extra power…
The Works arrived gleaming, feeling tight as a drum and wearing brand-new tyres. It's amazing the difference fresh rubber makes – there was zero torque-steer and a much more settled ride. Think I'll investigate some new, non-runflat tyres for our car to see if that improves things even further.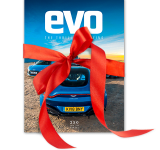 Subscribe to evo magazine
If you're passionate about the world's greatest performance cars, experience the thrill of driving with evo magazine. Try your first 5 issues for £5.
The Works engine felt a little smoother in its delivery than my standard S, but hardly any quicker. In fact I thought my car had the edge. Odd, but my Mini has always felt particularly healthy. A quick trip to Thorney Motorsport's Dyno Dynamics rolling road revealed why – on its first two runs it span up to 205bhp and 230lb ft! However, the 'overboost' facility then seemed to calm down and it delivered a consistent 175bhp and 192lb ft – much closer to the claimed figures. Wonder if I need that Works kit after all…
Running Costs
| | |
| --- | --- |
| Date acquired | May 2007 |
| Total mileage | 6896 |
| Costs this month | £0 |
| Mileage this month | 1110 |
| MPG this month | 32.9 |