Mini Cooper S
BMW's latest interpretation of the Mini Cooper S is misunderstood, suggests Jethro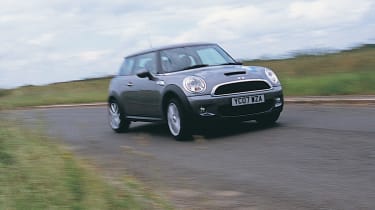 Mini haters – and there are lots of them – seem to have one criticism of BMW's interpretation of the model. It's usually their opening gambit and is then repeatedly sprinkled into the subsequent 'debate' about why the car is such a waste of space. 'It's not a Mini! Look how big it is! It's huge!' The way they talk you'd think it was the size of a Maybach, but in fact it's considerably shorter than either a Fiesta or a Corsa. Believe it or not, it's just 8cm longer than a Ka.
OK, it is much bigger than the original Issigonis design (what isn't?), but with the middle-age spread comes real refinement and superb long-distance capability. Dickie Meaden recently drove ours to the Nürburgring, where he was doing one of his VLN races with Aston Martin (they were all out of Vanquish S press cars), and he loved it. 'Brilliant on the autobahns,' he reckoned. 'Really quick, comfortable and it did well over 30mpg despite averaging over 100mph.' How quick? 'Well, the speedo showed 147mph at one point.' Not bad for a 172bhp hatch…
Designer Neil Carey, my brother and I went out to watch Dickie's race and stayed on for a long weekend of Nordschleife lappery (Carey has a mint E30 318is, my brother a wonderfully dishevelled, stripped-out E30 320i; I took my 'Target 8 Minutes' M3). It was an awesome weekend, but the weather was truly bizarre – hot and sunny one minute, trees being uprooted by wind the next – and when I finally got to sample the Cooper S on track the tarmac was streaming wet.
No matter, with ASC+T left well alone the Mini felt perfectly at home, slicing into turns despite the standing water and displaying a lovely neutral balance. The ABS occasionally triggered when there seemed to be plenty of grip (it does this on the road, too), but other than that it felt beautifully composed and very reactive to throttle and braking inputs. I reckon it'd be very, very quick in the dry.
It was heartening to see so many Minis in the VLN race or just blasting around during public hours. Despite the sneers of the Mini-haters, it's clear that people who really drive their cars have been won over by the Mini's blend of pace, agility and durability. Just a couple of months in with the newest Cooper S, I can understand why. Right now it's the best 'small' hot hatch by some margin.
Running Costs
| | |
| --- | --- |
| Date acquired | May 2007 |
| Total mileage | 5,786 |
| Costs this month | £0 |
| Mileage this month | 1,288 |
| MPG this month | 32.0mpg |