Mini Cooper (2006)
Well built and slow to depreciate, the Mini Cooper makes a smart secondhand hot hatch buy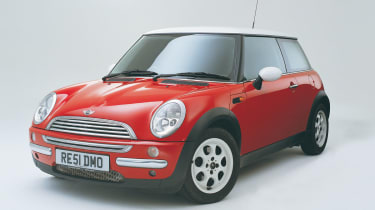 How can you call a car that sold nearly 45,000 examples in the UK last year a cult classic? Well, you can't, and yet despite its massive numbers the BMW Mini still somehow cultivates that in-crowd vibe. Buy one and you feel like you're joining an elite club, where the only requirement of entry is good taste. It's a brand thing, but this one has integrity, build quality, detailing, a classy finish and dynamic finesse to back-up the hype.
To be honest, with the quality of ingredients laid out in the Rover/BMW boardroom, it would have been hard to mess up the new Mini. All the marriage between the British icon and the German titan had to produce was a familiar yet innovative form that, while sophisticated, still retained some of the original car's cheekiness. They hit the bullseye big time. In fact, until recently there simply wasn't any point in buying a secondhand one; such was the demand, it was almost impossible to find any worthwhile saving over the new price.
Ultimately, though, age and depreciation hits every hot hatch, however good it might be. With so many around, slowly but surely residuals have sloped gracefully downwards, meaning it is now possible to bag yourself a Cooper for as little as £6000. Of course, that's still a chunk more than you'd pay for a Clio 172 or Punto Abarth of a similar age, but the Mini will continue to hold its value better than any of its rivals.
You'll feel like you're getting your money's worth, too. The Mini drives with attitude. The butch, broad, four-square stance is matched by action when you're behind the wheel. It attacks corners boldly, turning-in aggressively with minimal roll and body flex – and maximum grip. Cornering speeds are improbably high, with a level of composure that hasn't been equalled before or since. Certainly, it lacks the throttle-adjustability of a Clio, but it doesn't need it: you just use the steering wheel to alter your line instead.
The feel-good factor of Mini ownership is high, and now that the Cooper has dropped into a lower price bracket, it's more accessible than ever. Here's all the information you need to secure a cracker.    
Evolution
The Mini One and Cooper were launched together in April 2001. The 115bhp Cooper cost £11,600 in basic form, although it was common for buyers to add one of two option packs. The 'Pepper' pack cost £320 and included foglights, various minor interior trim upgrades and 15in 'Rocket' alloys (to replace the standard seven-hole 15in design, pictured). Meanwhile the £1020 'Chili' pack brought similar benefits but added 16in wheels, stiffer suspension and sports seats. From December 2003 both packs also included an on-board computer.
Of course, specifying a Mini rarely stops there. There has always been a wide range of styling options available to enable purchasers to personalise their car, and the original owner's taste (or lack thereof) will affect the resale price. Twisting the market further are a number of special-edition cars; the important thing with these is to tot-up the included extras to evaluate whether the sticker price is appropriate.
In August 2002 the much-anticipated supercharged Cooper S arrived. With 161bhp, it cost around £15,000 back then, but one can now be scooped up from around nine grand. In 2005, engine changes liberated a further seven horses, while suspension revisions improved wheel control over the bumpiest of roads.
Unsurprisingly, there have been many tuners who have dabbled with the Mini. We ran a supercharged Hartge screamer that dished out well over 200bhp and it never missed a beat in the year that it was on our long-term fleet. Obviously, if you take this route examining the history is even more important than normal.
Our advice if you want 200 secondhand horses is to go for one of the factory-approved John Cooper Works cars. The S Works arrived in 2003, adding £3010 (plus fitting) to the cost of the Cooper S and delivering 197bhp, which was enough for a 6.7sec 0-60mph time and a top speed of 140mph. Around 3500 Works kits have been sold worldwide every year since. From late 2004, improvements saw these figures change to 210bhp, 6.6sec and 143mph. Other John Cooper Works accessories include 18in wheels (around £1800 with tyres) and leather sports seats (around £1600 a pair). 
Driving one today
We tried a 2002 Cooper with 31,000 miles under its 17in alloys. It looks very clean and it's clear that the car has been cherished: both the exterior and the half-leather interior are blemish-free, and none of the wheels has been near a kerb. Some higher-mileage cars we've seen have looked a little tatty inside, but not this one. The only signs of wear are some scratches on the bolster of the driver's seat from denim studs and a few small stone- chips on the nose.
The engine starts on the button and revs cleanly, feeling as fresh as any we've driven. The brakes are strong and the gearshift is swift and snappy. It's been a while since we've driven a non-supercharged Cooper, but it's plenty quick enough charging down our B-road test route. The large 17in wheels give it a jumpy ride, but other than that it's a struggle to find any fault with it.