Mini Cooper (2006) - Mini Cooper checkpoints
Key points to check when buying a secondhand Mini Cooper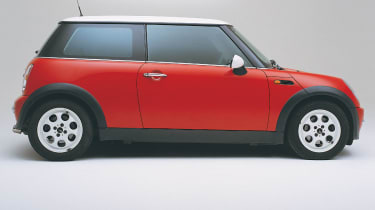 In general terms, the Mini is remarkably reliable and potential faults are easy to spot. The vast majority of cars (some 98 per cent) were sold with the 'TLC' package, which covers all servicing charges for the first five years or 50,000 miles, and can be transferred to the next owner. Not only was this a great deal for new owners, it's also good news for the secondhand market as it means that servicing has rarely been skimped or bodged.
However, that doesn't mean you can drop your guard. There were a few recalls over the years and it's important to ensure that any potential purchase has had the full complement of remedies. The most high-profile recall was for a 'static-discharge fire risk' when refuelling (cars built before August 2001), but others include a front suspension ball-joint and lower-arm upgrade (cars up to August 2001 again), possible tyre-wall cuts (cars built in January and February 2002), and one for a handbrake fault on all pre-December 2002 Minis.
Mini Cooper Engines
Overall, all the Mini engines are strong, but you should listen carefully for unusual noises. If a Cooper or Cooper S has a slight rattle at the top end, it could either mean the hydraulic tappets are on their way out or that the timing chain needs tensioning. Slowly bring the revs up and listen out for a bottom-end rattle. If you hear one it's likely that the engine will have run out of oil at some stage. A quick look for signs of a leak from either the oil filter housing or the sump will confirm this. Either way, with such a wide choice of cars available, you should walk away if the engine sounds anything other than perfect.   
Mini Cooper Exhaust
The exhaust is stainless steel and should last forever, so it just needs to be examined for signs of damage from grounding.
Mini Cooper Gearbox problems
If you are looking at a Cooper, listen out for gearbox whine from the transmission. The noise is likely to be evident in all gears and, if you experience this, the likely cause is a lack of oil – if you examine the driveshaft oil seals you will probably find that they have been leaking.The same could happen on a Cooper S, but with this car it's also worth turning to full lock to check for more unwanted noises, which this time may indicate that the diff bearings are worn.
The gearshift is operated by cables and the action should still be smooth in all forward gears; reverse is generally more difficult to engage, though, because of its lack of a synchromesh.
Mini Cooper Suspension/steering
The dampers last well on all models, even if the car has seen regular trackday use. A clonking noise from the rear is a good indication that the top mounting bushes are shot. It can happen at the front too, although this is less common, but a similar noise at the front could also be caused by the front anti-roll bar links. Neither issue is complicated or expensive to fix, though.
When parked, turn the steering from lock to lock and listen out for a banging noise coming from the steering column (ignore the buzz from the electric power steering – this is normal). This indicates a problem with the universal joint and there is a fix available under warranty. Out of warranty, though, the labour-intensive nature of the job means it can be quite expensive to have sorted, so many owners choose to live with it as it isn't dangerous and won't get worse.
Wheels/tyres
Examine the wheels for signs of kerbing and peeling lacquer. They can be repaired economically, but it does show evidence of a lack of care by the previous owner. Kerbing can also upset the wheel alignment, which is critical to a Mini's handling and will also result in premature and uneven tyre wear. A BMW alignment check will cost around £130. Run-flat tyres (as fitted to 16in wheels and above) should be examined closely for wear and damage as they are expensive to replace. Ensure there is a tyre repair kit and a locking-wheel-nut key in the boot.
Brakes
Have a look through the wheels at the brakes to check condition. They can rust quickly if left unused outside for long periods. If this is evident it's likely that they will squeal horribly on the test drive, but regular heavy braking to scrub off the rust should solve the problem. Pads and discs tend to wear at the same rate, and it's common for the rears to wear out at around the same time as the fronts, usually at around 20,000 to 25,000 miles. As it will cost around £500 to get the whole lot replaced, it pays to either ensure it's been done recently or negotiate a discount.
Bodywork
Most areas on the bodywork are easy to check and problems are usually obvious. However, you should still look closely for signs of accident damage. Grab hold of the front bumper and give it a firm shake to ensure it is still securely attached, as they are quite low and consequently easily damaged by speed bumps and kerbs.
The blunt nose is very susceptible to stone chips, as is the windscreen, which should be examined for chips and cracks. Windscreen-wiper rubbers wear and break regularly, but are cheap and simple to replace.
Interior/electrics
Feel the carpets in the front footwells for dampness, particularly if you are looking at an early car (2001-2002), as they were susceptible to water leaks from the A-pillar. Many of these cars were repaired under warranty, but if it hasn't been done this water can cause a range of electrical faults and cost as much as £1000 to fix. The ECU (or DME, as BMW likes to call it) costs £247 to replace. One of the body control modules (known technically as the BC1 unit) is sited in the footwell and it can be destroyed if water ingress is bad. There were a number of modifications made that resolved this issue, but it's still important to check all electrical systems, including the central locking and the lights. For complete peace of mind, call a main dealer, quote the VIN number and ask what warranty and servicing work has been carried out on the car.
The dash and all the switchgear are robust, although some of the plastics are easily scratched and the seats can sag, but, just like the bodywork, any problems are very obvious and should be factored-in to the purchase price.
Specifications
| | |
| --- | --- |
| Layout    | Front-engined, front-wheel drive |
| Engine    | In-line 4-cyl, 1598cc, 16v |
| Power    | 115bhp @ 6000rpm |
| Torque    | 110lb ft @ 4500rpm |
| Suspension, Front | MacPherson struts, coil springs, anti-roll bar |
| Suspension, Rear | multi-link, coil springs, anti-roll bar |
| Tyres    | 175/65x15 Pirelli P3000 |
| Power/weight    | 111bhp/ton |
| 0-60mph    | 9.0sec |
| Top speed    | 124mph |
| Price new    | £11,600 (2001) |