BMW's first Mini Cooper had big boots to fill, but then it also had bigger feet. Yes, the Mini hatchback that arrived in 2000 was a great deal bigger than the 41-year-old Rover-badged car it replaced, but it retained many of the original's most appealing characteristics, from direct steering to an agile chassis and of course, retrospective styling.
That Minis have subsequently grown even further in size and their once-neat styling has become a parody of itself makes the early car even more appealing. They're inexpensive to buy, starting at around a grand for an average Cooper, and great fun in any form.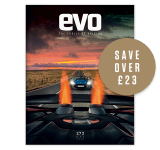 Subscribe to evo magazine
Subscribe today to have every issue of evo delivered straight to you. You'll SAVE 39% on the shop price, and get evo for its original cover price for a whole year!
Mini Cooper in detail
The Mini had a fairly long gestation, with development beginning in the hands of Rover in 1995, while under ownership by BMW. Designed by Frank Stephenson (now director of design at McLaren) there was never any doubt as to what Rover and BMW's new supermini was supposed to be, and the retrospective vibe continued inside, with a simple two-spoke steering wheel and most notably, a centrally-mounted speedometer.
A 1.6-litre, Brazilian-built and Chrysler-designed four-cylinder petrol sat underneath the enormous clamshell bonnet (that bonnet housed the headlights, too), and produced a modest 113bhp with 110lb ft of torque. Thankfully, Minis were still relatively light at this stage – 1050kg for an early Cooper – so a sub-10sec 0-62mph time was still on the cards, and a slick five-speed manual gearbox made going up and down the ratios one of the Mini's small joys.
Coopers started at £11,600 in 2001, while a less powerful and less expensive Mini One was also available, but the supercharged Cooper S (£14,500) was the car to bring even greater excitement to the Mini range, with 161bhp and a characterful whine from the supercharger.
> Click here for our review of the Mini John Cooper Works
Excitement was boosted further by official John Cooper Works versions of both cars. Unlike today's JCW models, the early Works cars were actually developed at John Cooper Garages, run by John's son Mike Cooper. There was old-school tuning involved, with a ported and polished cylinder head, and freer-flowing intake and exhaust systems to take power to 130bhp. Not a huge increase, but it made the Cooper more enthusiastic at higher revs and bumped up the fun factor accordingly. Available later, the Cooper S Works boasted 197bhp. The power kits weren't cheap – £2408 fitted for the Cooper, £3010 for the S – but both were officially sanctioned by BMW.
2004 saw a facelift, while 2006 heralded the hardcore Mini John Cooper Works GP. The GP got a pair of Recaro seats up front, while the rear pews were discarded entirely in favour of a brace bar between the rear strut tops. There was less sound deadening material too, and claimed weight savings of 50kg compared to a standard Cooper S. Power climbed to 215bhp, and at 6.5sec to 62mph it was among the quickest hot hatches of the time.
| | | | |
| --- | --- | --- | --- |
| | Cooper | Cooper S | Cooper S Works GP |
| Engine | 1598cc, in-line 4cyl | 1598cc, in-line 4cyl, supercharged | 1598cc, in-line 4cyl, supercharged |
| Max power | 113bhp @ 6000rpm | 168bhp @ 6000rpm | 215bhp @ 7100rpm |
| Max torque | 110lb ft @ 4500rpm | 155bhp @ 4000rpm | 184lb ft @ 4600rpm |
| Weight | 1050kg | 1140kg | 1090kg |
| Power-to-weight | 109bhp/ton | 143bhp/ton | 200bhp/ton |
| 0-62mph | 9.2sec (claimed) | 7.2sec (claimed) | 6.5sec (claimed) |
| Top speed | 124mph (claimed) | 135mph (claimed) | 149mph (claimed) |
What we said
Mini Cooper, evo 033 (Jul 01), John Barker
'It's a pretty ordinary sounding engine, reasonably refined at tickover and tight and together up to 5000rpm. Throttle response is clean – if you didn't know, you'd never guess it was drive-by-wire – but there's not much edge to its low speed delivery… I'd be surprised if the Cooper cracked nine seconds to 60mph, and it would be a pretty raucous affair because at the top end the engine becomes rather thrashy.
'It's a shame the Cooper isn't more gutsy because it's every bit as chuckable and poised as you'd hope. It feels good the moment you pull away, with a solid, big-car feel and the encouraging sense that all the weight is concentrated below hip level. The Cooper rides rough sections with sporting suppleness, letting you feel connected but filtering out the sharp edges, and it flicks from camber to camber, apex to apex, with a precision and composure that inspires trust.'
> Click here for our review of the Mini Cooper 
Mini Cooper S, evo 043 (May 02), John Barker
'With its considerable torque advantage, the Cooper S hauls through the lower gears with much more conviction, of course, but a close-ratio 'box would surely have suited it better. Even so, BMW claims the S hits 62mph in 7.4sec and, to be honest, it feels good for it.
'That's the thing about the Cooper S: you expect more low-rev urgency, you think it should have shorter gearing, and yet at the end of a long day spent thrashing it up and down some great roads, you can't help but conclude that it's a superb little car that's a whole heap more satisfying than the stock Cooper.
'Steer into a turn and the S seems to pivot around a stake driven through the centre of the dashboard, biting into the road and slicing hard for the apex. There's no obvious roll, no slip, the car just turns.'
> Click here for our review of the Mini Cooper S
Mini Cooper S Works GP, evo 094 (Aug 06), Jethro Bovingdon
'At low speeds it's familiar Mini: quick steering, strong torque, stiff, flat ride. Over ragged tarmac the GP shows some subtle differences. It's still firm but somehow it feels more rounded, less likely to skip over sharp ridges and bounce the car off line. Sounds great, too. The 1.6-litre supercharged engine revs with all the intensity of a little screamer, but the strong torque means you don't have to stir the sweet-shifting six-speed 'box to make quick progress.
'There's a bit more roll than I'd expected, but that allows the 205/40 Dunlops' treadblocks to lock into the surface and hook the nose into the apex. Jump on the power as you feel it settle and the standard limited-slip diff transmits all 218bhp to the road with immense composure, steering wheel gently writhing in your hands.'
> Click here for our review of the Mini John Cooper Works Challenge
What to pay
Mini Cooper (R50)
Excellent: £3000Good: £2000Average: £1500Project: £500
Mini Cooper S (R53)
Excellent: £5000Good: £3000Average: £2000Project: £1000