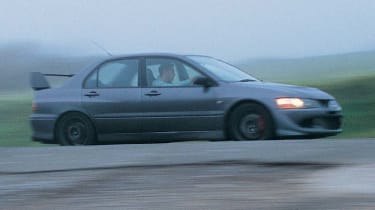 I've always really enjoyed Evos, from the first Evo VII Extreme that I tried, through John Barker's manic Evo VII RS and particularly the latest MR generation. So it was a bit of a surprise to find myself falling out of love over the Christmas and new year period with my very own FQ-340. Instead of shrugging off the slimy conditions, cutting through the grease and getting all 345bhp to the tarmac, WX04 KCG felt worryingly out of sorts.
Front-end grip was poor and when the nose finally bit and the turbo was fully up to speed the tail would be swinging abruptly and dramatically. You always expect an Evo to be a bit tail-led, but rather than taking an angle and then digging in, the tail just kept on going. On a number of occasions it needed lots of lock to keep it pointing in the right direction, and even at low speed the understeer was disappointing.
All logic pointed to the Yokohama AVS tyres causing this unexpected behaviour, and by 9500 miles they were close to the legal minimum anyway (they'd lasted just 5500 miles despite serving up little dry or wet road grip) so it was time to hunt for a replacement. The only way we would be able to get hold of the OE and superb Yoko AO46s was to import them from the US or Japan (which seemed a bit drastic), so I contacted Pirelli, Bridgestone and Dunlop to see what they could offer.
Pirelli's soft-compound P Zero Corsa isn't produced in the Evo's 235/45 ZR17 size (in fact if you don't own a supercar or GT3RS, forget about it) and the Rossos seemed a bit conventional for the extreme FQ-340. Bridgestone's sticky RE070 seemed the logical choice (we first tried them on the NSX-R and now they're OE on the new Impreza), but then flicking through Demon Tweeks' catalogue the Dunlop Super Sport Race caught my eye. I'm afraid I've got a bit of a rubber fetish (spotting tyres from tread patterns is my party trick) and the SSR looks just like an intermediate tyre in GT racing, which sort of made the decision for me...
I've had to drop down to a 225/35 but the Dunlops have given the Evo its grip back. In damp conditions you can feel the wheels really digging for traction, engine revs just flaring and then reining in as the tyres claw at the road. And in the dry it's got so much more grip it's untrue. The MR's chassis seems happier, finding enormous front grip and attacking corners in that familiar just-past-neutral stance, tail hunkered down and steering the front tyres hard into the apex. Wonderful. And I'm happier, too. I've fallen for the Evo again. Not sure our bank manager's so enamoured, with the first service setting us back £296.50 (courteously carried out by Bells Mitsubishi of Earls Barton) and with the tyres at £160 + VAT per corner (Dunlop Motorsport: 0121 306 7002) it's been a scarily expensive month.
Running Costs
| | |
| --- | --- |
| Date acquired | September 2004 |
| Total mileage | 10,450 |
| Costs this month | £1048.50 |
| Mileage this month | 1215 |
| MPG this month | 20.2 |