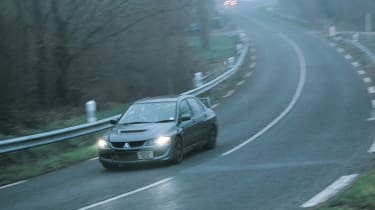 Last month, you may remember, young Bovvers declared that, thanks to a set of aggressively grippy Dunlop Super Sport Race tyres, his love for the Evo had been rekindled. News to warm the cockles of every bloke's heart, but not, sadly, those of his missus. On seeing the distant look in his eyes, she's whisked him away on a fortnight's holiday to escape the Bishi's ample charms. And she didn't even let him drive it to the airport. Ouch.
So, while Jethro lies pining on a Caribbean beach, I've been ripping around the countryside in the steely grey missile. Truth be told, I've always been more of a Subaru man, preferring the throbbier engine and more measured responses to the Evo's anodyne note and knife-edge dynamics, but when driven in isolation the MR 340 is an unarguably mighty, sense-frazzling device. It's great fun in small doses and the relative privacy of your favourite secluded B-road, but an absolute bloody liability to your licence on a day-to-day basis. Drive one for more than a week and you don't so much need a Road Angel as diplomatic immunity...
A recent visit to our local Mitsubishi dealership (Bells Mitsubishi of Milton Keynes) highlighted a few areas where the Evo ownership experience is lacking. A month or so after it returned from Mitsubishi's press office workshop after Jethro's unfortunate road furniture interface, we've been troubled by an intermittent noise and faint vibration from the front left corner of the car. Most noticeable on smoothly surfaced, gentle right-hand curves, it sounds like a worn wheel bearing, but from deeper within the car. Typically it never does it on demand, but both Jethro and I have experienced it, while more recently Chee heard a grinding noise that forced him to check if the wheel was still on the car. Uneducated guesswork points at something in the front diff, or perhaps a CV joint.
Duly booked in to Bells, and having taken time to clearly explain that the car had recently been repaired after significant suspension damage to the left-hand side, the Evo spent several days being prodded by Bells' Ralliart technician. Imagine our frustration, then, when Bells phoned to say that they couldn't hear the noise and, on inspection, couldn't find anything wrong and that consequently the car was ready for collection.
True, tracing intermittent owner-reported mechanical noises must rank alongside dashboard rattles and electrical gremlins in the mechanics' 'Most Hated' list of futile jobs, but the sense of frustration we felt at the collective shoulder-shrug from Bells, and the helplessness at leaving with the onus firmly on us to trace the problem, still rankles.
To add insult to injury, ten miles after leaving Bells, the noise returned - not the awful grinding Chee reported, but the familiar weak, whirring hum - accompanied by an equally muffled vibration through the pedal box. I suppose I should have gone straight back to Bells, but with little faith in their commitment to trace the problem, I carried on. If you're sensitive to your car's health it's the kind of hopeless scenario that keeps you awake at night. Suggested remedies on a postcard please...
Running Costs
| | |
| --- | --- |
| Date acquired | September 2004 |
| Total mileage | 11,864 |
| Costs this month | £0 |
| Mileage this month | 1414 |
| MPG this month | 20.8mpg |