Mitsubishi Evo: Mitsubishi Evo X FQ-300 SST
A scolding warning chime was the centre of attention on our Evo this month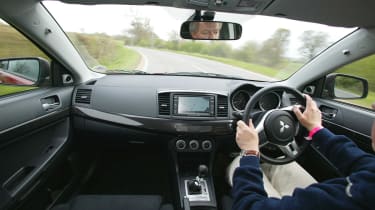 Not many miles, I know, but I've been driving other test cars. Sorry. The once-red calipers have turned maroon, though, the mark of a strenuously exercised Evo I'm told. It happened on last month's trackday.
I've made a vital mod, too. I've disabled the intensely annoying seat-belt warning chime, a particularly unintelligent one which sounded as soon as the ignition was on and made me livid, especially if I had to undo the belt while manoeuvring into a tight spot hidden by the high tail. I always wear a belt and don't need to be chimed at just so Mitsubishi can gain an extra Euro NCAP point, thanks.
Unbolt the belt clasp, spring the switch out of the casing, tape the switch in its compressed position and stuff it under the seat, re-bolt the clasp to the seat. Job done, nanny state snubbed, no more rage every time I start the Evo.
Running Costs
| | |
| --- | --- |
| Date acquired | April 2008 |
| Total mileage | 3650 |
| Costs this month | £0 |
| Mileage this month | 269 |
| MPG this month | 18.7 |