SpeedART tuned 911 coming to Geneva
One of the first tuning companies to get its hands on the 991, SpeedART will be introducing its upgrades at the Geneva motor show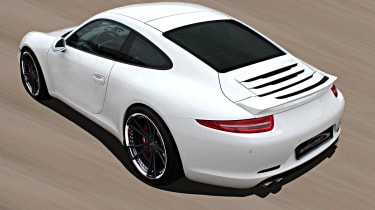 German Porsche tuning company SpeedART has been busy with the new 991, and will be releasing full details of an upcoming tuning program at the Geneva motor show on 6 March.
To release a bit more performance from the 3.4-litre 991, SpeedART will offer a revised exhaust system, and re-programmed ECU, which should increase power output by about 25bhp.
Visually, the biggest upgrade is the SP91-R aero package, which features a subtle 'CS rear-wing', 20- or 21-inch forged wheels, as well as a re-trimmed alcantara or leather interior.
Full details will be announced during the 2012 Geneva motor show.