Citroen C6 leaves the UK
Citroen's flagship executive saloon, the C6, will no longer be sold in the UK as production winds down.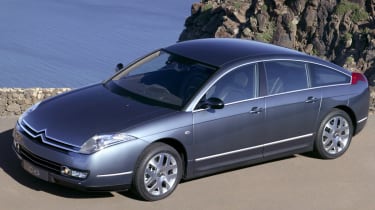 Following a lack of sales, and the launch of the new DS5, Citroen has stopped production of right hand drive models and ceased importing the flagship C6 into the UK completely.
Launched in 2006 to replace the XM (which had been out of production for over five years), the Citroen C6 signalled the start of a new direction for the French company, introducing a sharp new look that influenced the rest of the range. This was a truly modern design.
At the time it featured the latest incarnation of the company's hydropneumatic suspension system – Hydractive 3+ – which combined the traditional fluid-filled system to work in conjunction with electronically controlled springing and damping.
Originally only available with the 3.0-litre petrol V6, or Jaguar-shared V6 bi-turbo diesel, the range later extended to include the more tax-friendly 2.2 diesel.
Without the C6, Citroen's flagship in the UK is now the recently launched DS5. Unless the DS9 Concept that was unveiled in Beijing gets the go-ahead…