Jaguar invited evo to a round-table discussion with the key engineers responsible for bringing its C-X75 plug-in hybrid hypercar to production. And the details they revealed are mind-boggling.
There are two high-powered axial flux electric motors, one powering the front axle via a single speed gearbox, the other powering the rear wheels via the main seven-speed automated manual gearbox. They boast three times the power density of conventional electric motors, and are supplemented by a high-tech 1.6-litre twin-charged (supercharged and turbocharged) four-cylinder engine producing in excess of 500bhp at 10,000rpm.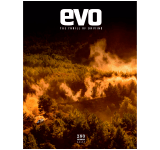 Subscribe to evo magazine
Subscribe today to have every issue of evo delivered straight to you. You'll SAVE 39% on the shop price, and get evo for its original cover price for a whole year!
As you'd expect, the performance claims are off the scale. Jaguar is confident the C-X75 will hit 60mph in 3sec and 100mph in 6sec, as well as comfortably topping 200mph. Insiders told me they'd be happy with 205mph, so it looks like the XJ220 won't lose its crown as the fastest ever Jaguar production car. 
Jaguar signed up Williams F1 as partners for the C-X75 with an eye on its carbonfibre expertise (the C-X75 will be constructed entirely from carbonfibre, with aluminium crash structures front and rear) and KERS technology, particularly in battery management and how to control two different power sources effectively. 
Jaguar is confident the C-X75 will more powerful batteries than its hybrid hypercar competitors (its closest rival will be the Porsche 918) and revealed the twin liquid-cooled battery packs weigh 200kg in total. These are positioned as low down as possible in the chassis, sitting in two pods either side of the mid-mounted engine. They can be charged from a domestic electricity supply, by regenerative braking or by managing the engine to provide charge when needed. They operate at 600 volts (higher than any other hybrid car), giving the C-X75 an electric-only range of 60km (37.5 miles).
The unique twin-cam, 16v 1.6-litre engine is an all-aluminium unit, is dry-sumped and features both direct fuel injection and port injection, with both systems being used when full power is required. The belt-driven supercharger is there to boost low-rev performance but once 5000rpm has been reached, the engine swaps over to the single turbocharger to provide the boost and thanks to very aggressive cam profiles and variable cam-timing, power builds all the way to the stratospheric 10,000rpm rev limit. Jaguar is remaining coy on the peak power figure but is saying it's 'in excess of 500bhp'. High performance 1.6-litre four-cylinder engines will form the base engine for many forms of motorsport (including F1) in the near future, hence the appearance of one in Jaguar's halo supercar.
All this power is transmitted to the rear wheels via the seven-speed automated single-clutch gearbox, which is a transverse design (like the Pagani Huayra's), to keep the weight as close as possible to the centre of the car. Jaguar dismissed using a dual-clutch transmission because it would have added an extra 100kg. The rear axial-flux electric motor sits beside the engine and transmits its power to the gearbox via another clutch, so it can work independently to the petrol engine. 
The single-speed front electric motor operates at all times (geared to the equivalent of sixth gear in the seven-speed rear gearbox), effectively giving the C-X75 all-wheel drive, which was deemed essential for it to hit the target 0-60mph time.
Jaguar is about to start trials with three working prototypes this summer, working towards bringing the car to the market in 2014. When pressed as to whether there's really a demand for a £800,000, environmentally friendly hypercar (it will be rated at under 100g/km CO2), Jaguar is confident there is because the C-X75's design was so well received when it was first revealed at the Paris Motorshow in 2010 and they are planning to only build a maximum of 200 examples anyway.