Lexus reveals LS flagship
Lexus has released the first picture of its updated LS flagship model, ahead of its official launch next week.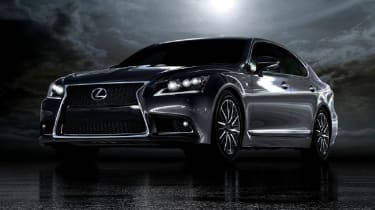 Lexus is planning to launch the updated version of the LS flagship executive saloon next week, but ahead of the official unveiling, the company has released a single image.
No extra information has been revealed, but from the image, it's clear to see that Lexus has applied the new and much more distinctive 'Spindle' front-end grille treatment to the LS - which is being applied to the entire range.
The company has also revealed that it will be launching the LS F Sport at the event, a performance-orientated version to feature more power and uprated suspension, and a styling kit.
More details will be available following the official unveil on Lexus's Facebook page on Monday 30 July.