Radical SR8 RX takes on Cholmondeley video
Ex-Le Mans podium finisher Robbie Kerr takes the Radical SR8 RX around the course at the Cholmondeley Pageant, setting a new record. Video action here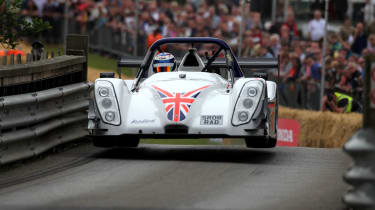 Fancy watching an ex-Le Mans podium finisher throw the most brutal Radical yet around the grounds of Cholmondeley castle in Cheshire? Here is Robbie Kerr, an A1 GP race winner and LMP2 class podium finisher at Le Mans in 2007, doing just that.
Setting a time of 55.29 seconds, Kerr in the Radical smashed the 2012 record set by Scott Mansell in the Caterham SP/300.R by 6.6 seconds. The Radical also set the fastest speed trap of the weekend at 129mph.
It comes as no surprise that the SR8 RX, making its Cholmondeley debut, was this quick. The car produces 430bhp from a 2.7 litre V8 and weighs in at just 680kg. Figures like this make Radical's claim that the RX can lap Silverstone at the same pace as a Formula 3 car seem pretty believable.
The 'Racing Saloons and Track Day Cars' class at Cholmondeley is starting to provide us with an annual bloodbath between British lightweight manufacturers, and the 2013 edition certainly did not disappoint. Enjoy the video: