Ferrari's intern programme
UK graduates lead the race for an internship at Ferrari. Details here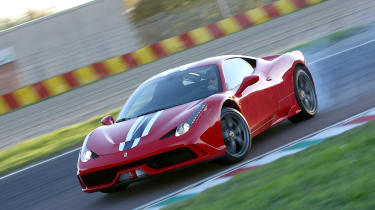 Some of the UK's top Engineering and Business graduates could be given the chance to work for Ferrari at its famous Maranello home in Italy. Offering a six-month internship and following contract, the legendary Italian marque will select just 18 graduates, whittling down 5300 applicants from 23 countries.
Of the UK graduates, the Italian carmaker is pleased to see such a strong showing, with candidates representing Cambridge University, Cranfield Institute of Technology, Durham University, Imperial College London, London School of Economics, Oxford University and University College London.
Between now and 22 January, the remaining 96 graduates will undertake video-conference interviews, after which just 50 per cent will be invited to Maranello for two-days of evaluation. Focusing on the graduates' problem-solving abilities and teamwork skills, the five strongest candidates will then begin their internship before receiving a contract to work in either the Engineering Department or Commercial and Brand activities.
Ferrari's Regional Manager for North Europe, Francesco Balli said 'we are delighted to see such a strong contingent from the top Engineering and Business schools in the UK. We are proud to offer this opportunity to some of the most talented engineers and business brains whom we expect to bring innovation and creative thinking to the Ferrari of the future.'