BMW M6 to replace Z4 in FIA GT3 racing series
The German firm has opted to switch its successful Z4 for the M6 coupe in the hotly-contested FIA GT3 series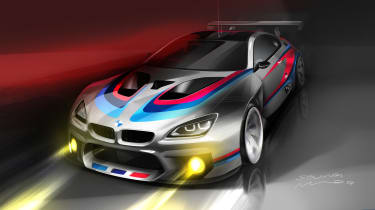 BMW's Z4 GT3 car has enjoyed plenty of success in GT racing since its debut in 2010, but BMW has now announced it will replace the Z4 with a GT3-spec M6 from 2016.
The company says development work for the racer is already in full swing, and has released teaser sketches to illustrate the new car's 'wow factor'. Like the Z4 GT3 it replaces, the M6 GT3 features racing-specific details like wider wheel arches front and rear, a deep front splitter and high-level rear spoiler.
BMW notes the difficulty in replacing a car that its racing customers are already very happy with, and will ensure that existing Z4 GT3 customers will receive full factory support even after its replacement debuts.
The race-spec M6 uses a specially modified version of the 4.4-litre BMW M Twin Power Turbo V8 unit found under the long bonnet of the road-going BMW M6. Engine output in race trim is as-yet unconfirmed, though the GT3 series uses balancing adjustments to ensure comparative performance between different models.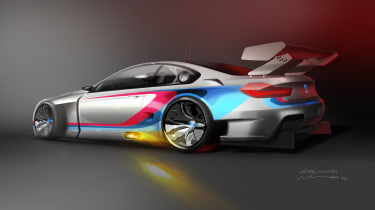 BMW Motorsport is also working on a suitable chassis setup, while the M6 will gain a racing-specification gearbox, racing ABS and a new electronics package before its wheels touch asphalt at a circuit. GT3 regulations require that no development work is allowed on competing vehicles after the season begins - so BMW must get it right first time to be competitive.
At the same time, engineers are focusing on safety, reliability and affordable running costs, ensuring the car holds the same appeal for customers as its predecessor.
'There are few things more exciting than the development of a completely new car like the BMW M6 GT3,' said BMW Motorsport Director, Jens Marquardt. 'The Z4 GT3 has enjoyed success around the world in recent years…we obviously want to follow on from this success with the BMW M6 GT3.'
BMW says its racing customers will be able to order their cars through 2015, with the cars set to hit worldwide race circuits for the 2016 season.