Formula 3 cars to race around Coventry's streets in 2015
Coventry is to become the first city to take advantage of new UK laws by hosting motorsport events from next year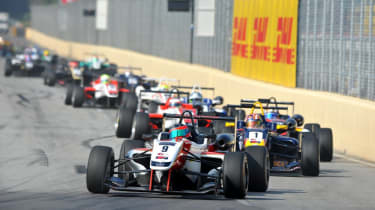 Coventry has become the first major UK city to announce plans for a motorsport event to be held on its roads since the passing of new legislation earlier this year. Once known as the UK's motoring capital, the West Midlands city will see British Formula 3 cars, British Touring Cars and Porsche Carrera Cup cars join a whole host of other racing machinery to compete at speeds of over 150mph at the 2015 Coventry Motofest.
Based around the Coventry Ring Road, the 150 competitor strong event will see competition cars setting timed laps as well as classic cars doing demonstration runs, with the prospects for racing also likely. For racing to take place, the Motorsport Industry Association will have to approve the plans, but with such strong support, it looks very likely wheel-to-wheel action will be included in the programme.
The Motofest motorsport plans have been made possible thanks to the relaxation of laws in Parliament. Previously, any motorsport events staged on roads had to receive approval through an Act of Parliament. The recent law change allowed Coventry's City Council to suspend the Road Traffic Act without further approval.
Motofest Director, James Noble, said of the news: 'We are so excited to announce competitive motor sport on the Coventry Ring Road. This was a big part of our vision when Motofest was first developed and we are so grateful to Coventry City Council for its forward-thinking approach in enabling us to make it a reality.'
'With Coventry's rich motoring heritage and history, it feels like the right fit to be racing in Coventry and we can't wait to make it happen.'
Safety will be paramount, but with street motorsport events such as the Monaco Grand Prix taking place around the world, Coventry will have plenty of places to take influence from. The British Automobile Racing Club will be heavily involved in ensuring no corners for safety are cut.
The new plans have reignited excitement for those hoping to one day see a London Grand Prix, with the new, quieter Turbo V6 F1 cars being significantly less threatening to nuisance related laws than the older, louder V8 and V10 engined cars. Recent announcements for the London Formula E Grand Prix to take place near Clapham in South London's Battersea Park have also helped snowball this idea.
Already pitted by many as a potential spiritual successor to the legendary Birmingham Superprix of 1986-90, the 2015 Coventry Motofest will also host live music, a motoring themed film festival and several surrounding smaller events. Dates are yet to be announced, but usually fall around the final weekend of May.