Porsche points to hybrid power for the new 911
Wolfgang Hatz says next generation 911 will be turbocharged and hybrid powered
Porsche engineering chief Wolfgang Hatz has divulged some interesting information around the next generation Porsche 911.
Speaking to Top Gear, he explained that "Porsche is in a good position" to implement a hybrid 911, developing on knowledge gained from the 918 and 919 racer.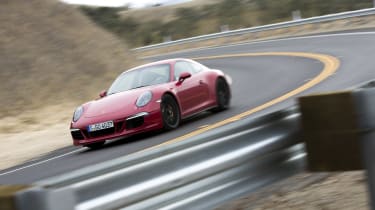 Hatz also pointed to the move towards CO2 reduction and the importance of turbocharging in emissions regulation changes.
"Every new model will have lower CO2 than before. There aren't so many technologies to do it. If you look at euro per g/km then it's turbo. Then at the end of the decade electrification has to be the next huge step." said Hatz.
Currently Porsche has a hybrid powered Panamera, Cayenne and the flagship 918 Spyder in its range. Hatz has explained that turbocharging will be considered for all 911s bar the GT3.