Watch - Tractor top speed world record set on Nokian Tyres
World Rally legend Juha Kankkunen drives tractor to 80.88mph on ice
Finish tyre maker Nokian Tyres has set a Guinness World Record for the fastest top speed for tractors. Reaching an impressive 80.88mph, the record was attempted on Nokian's new Hakkapeliitta TRI tyre.
The Hakkapeliitta TRI has already set new standards as the world's first winter tractor tyre, but under the control of four-time World Rally Champion and native Fin Juha Kankkunen, it charged along a snow-cleared dragstip to set a new global benchmark.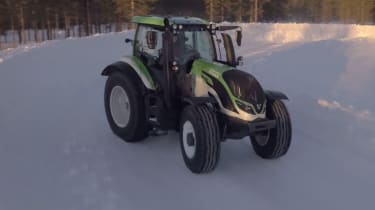 The tractor, a Valtra T234, produces a fairly tame 247bhp from its six-cylinder turbo-diesel engine. Combine this with a 7300kg weight with full tanks and it likely felt incredibly sluggish to a WRC legend.
However, the T234 does have an impressive party piece: it produces 737lb ft of torque. Kankkunen's pre-run optimism is therefore quite understandable.
'The biggest challenge is to gain speed on the curve. Because of the skidding it's always most difficult to gain enough speed coming out,' Kankkunen concedes before his run. 'Let's just drive and see how it goes.'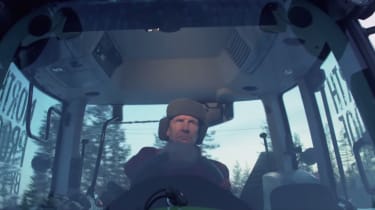 After a few runs, Kankkunen managed to surpass the 80mph mark. Though it's true the tractor wasn't completely standard – it had received a remap early in the day – we shouldn't forget this record was set on ice.
Watch Nokian's dramatic final production video below: