Bridgestone's puncture free future is almost a reality
Airless tyre moves closer to production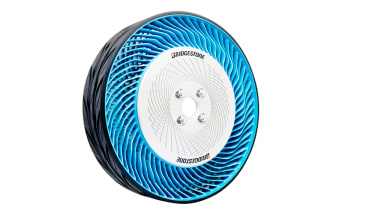 Bridgestone says its 'Air Free' concept tyre could make production in less than two years, after undergoing testing on ultra-light vehicles.
As the name suggests, the concept is a non-pneumatic tyre and consists of three main parts: an aluminium inner wheel, a rubber-based outer tread and thermoplastic resin spokes. The interlaced structure of the spokes helps the concept behave like a conventional tyre, supposedly offering the same level of manoeuvrability and stability.
'One of the key benefits of the concept is that there's no need to worry about punctures,' says Bridgestone's consumer sales and marketing director, Farrell Dolan. 'There's also no need to check tyre pressures.'
Though no specific weight figure has been touted for the concept, Fallen confirms that it is at least comparable to current products. 'They're light compared with puncture-less tyres, such as urethane-filled and solid rubber tyres. Even rolling resistance is at an equivalent level to fuel-efficient pneumatic tyres.'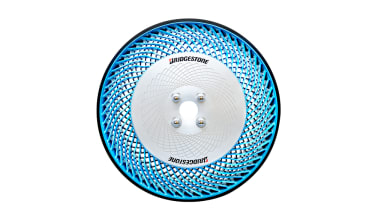 Now in its second generation, the Air Free concept has been tested at speeds of up to 37mph on vehicles weighing 410kg. Bridgestone's engineers reckon each tyre can amply support 150kg, meaning eco-vehicles such as the Renault Twizy could easily be catered for.
Dolan does admit that the concept's unique spoke structure is vulnerable to picking up objects, although Bridgestone claims to have that issue covered: 'As the distance between the spokes changes while the vehicle is moving, objects will generally come lose.' Generally…
As well as creating a puncture-free future, a production version of the Air Free could improve tyre sustainability by using recyclable materials in its construction.
The idea of puncture-resistant tyres that can also be recycled into new units certainly has its appeal as a driver. But given that a significant proportion of new tyre sales must come as a result of punctures, you have to wonder what's in it for Bridgestone.