Apple car could arrive as early 2019 - is now a "committed project" for brand
First car won't be fully autonomous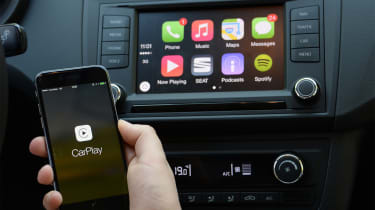 Rumours of Apple's plans to produce a car have ramped up a notch with a report that claims the company could ship its first vehicle as soon as 2019.
Sources speaking to the Wall Street Journal have said that the Apple Car is now a "committed project" and that engineers and designers at Cupertino are "accelerating" its development.
Recent months have seen Apple hiring senior members of staff from throughout the automotive industry. Doug Betts, a senior vice president at Chrysler, has now joined Apple, as have many employees from the likes of Tesla, Ford and GM.
The ship date for the first Apple car has now been pinned at 2019, with rumours suggesting the first vehicle won't be a fully autonomous one despite the aims of the project.
Google is also entering into the autonomous car game, hiring executives from across the automotive industry to help build up its self-driving car project.
>Read our Mercedes-Benz S-Class review here
Mercedes and Audi currently are testing various self-driving cars, with the latest generation S-Class boasting lane-tracking cruise control and automated braking.