Italians halt VW diesel sales, Audi admits 2.1 million cars feature cheat software
VWs and Audis are affected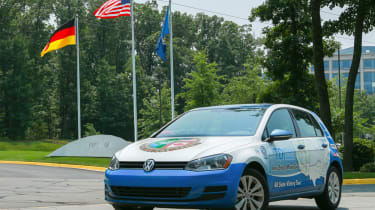 Volkswagen Group's Italian dealers have joined their Swiss counterparts by halting all sales of cars that feature emissions cheating engine software. It's said that the sales ban is a precautionary measure taken in anticipation of potential sanctions - if these cars were sold a potential recall to adjust their software could cost considerably more. As many as 3000 cars are affected, all of which feature the Euro 5 diesel engine. Euro 6 diesels are reported to be unaffected - they conform to local laws and standards.
The Swiss announced a similar ban late last week, with a more significant 128,802 cars affected, while as many as 91,000 Danish VWs could be affected if that country adopts the same approach. And Germany could enforce its own ban on its native carmaker if measures to fix all affected cars are not drawn up by 7 October.
Yesterday Audi revealed that 2.1 million of its cars feature the same software that parent company Volkswagen used to cheat US emissions testing. 1.42 million of these Audis were sold to European customers, and are comprised of A1, A3, A4, A5, A6, TT, Q3 and Q5 models. The news comes as German prosecutors begin to investigate former VW CEO Martin Winterkorn for allegations of fraud - the ex-boss quit last week after announcing he had no prior knowledge of emissions test cheating.
Just last week several other leading carmakers issued statements proclaiming that they don't cheat emissions tests. Days after it was revealed that Volkswagen has been fitting its cars with defeat devices to artificially trim NOx output during tests, BMW, Mercedes and Jaguar Land Rover are three of several brands who have distanced themselves from the practice.
BMW said 'the BMW Group does not manipulate or rig any emissions tests. We observe the legal requirements in each country and fulfil all local testing requirements'.
Mercedes issued a similar defence, explaining that it does not use devices that 'illegitimately limit the effectiveness of the exhaust after treatment system'. It went on to add 'this applies to every Mercedes-Benz diesel and petrol engine worldwide'.
PSA, Jaguar Land Rover and Renault have followed, with the second French carmaker even going so far as to say it'd welcome more stringent tests in the future.
Unsurprisingly, Volkswagen's group stablemates have been quick to clear their names, with Porsche, Bentley and Lamborghini contesting that the issue is not group wide as they all run their tests independently. 
Despite these comments, many industry insiders are still doubtful that Volkswagen is the only offending manufacturer. BMW has contested allegations by emphasising the importance of CO2 testing to its brand. It commented 'the progress achieved so far in CO2 reduction in Europe is largely due to the use of diesel technology. We are willing to discuss our testing procedures with the relevant authorities and make our vehicles available for testing at any time'.
>Read - Martin Winterkorn steps down as Volkswagen CEO in wake of emissions scandal
Like many of the aforementioned carmakers, diesel engines have been increasingly important for BMW. A significant 80 per cent of BMWs sold in Europe are diesel powered – any suggestion the brand has been cheating could have a catastrophic effect on its annual sales.
NOx (nitrogen oxide) levels have increased in recent years thanks to the rapid growth in diesel car sales. Diesel has been labelled by some as a 'quick fix' to reduce CO2 output, and while its true substantially less of the greenhouse gas is produced by new diesels, studies show that they generate as much as four times more NOx and 22 times more particulates than petrol cars. Both of these emissions are bad for human health, contributing to respiratory diseases, especially in built up areas. 
With that in mind, could the Volkswagen emissions scandal go so far as to change people's attitudes towards diesels? Paris has already proposed plans to ban the dirtiest diesels from its roads by 2020, and many think other European cities will follow. So while Volkswagen will have to work very hard to tidy up its image, has too much damage been done to clean up the perception of diesel?