Martin Winterkorn steps down as Volkswagen CEO in wake of emissions scandal
Emissions crisis includes VW's sold in Europe; Winterkorn steps down; €25bn wiped from share value.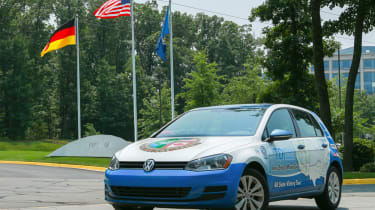 Martin Winterkorn has stepped down as the CEO of Volkswagen following a scandal that has wiped as much as €25bn from VW's share value.
A software cheat was discovered that allowed VW's 2-litre EA189 diesel engine to falsely meet American emissions standards tests. The days following saw repeat statements from VW group relating to the matter, culminating in 68-year old CEO Martin Winterkorn announced his resignation.
"I am clearing the way for a fresh start." explained Winterkorn. "I am shocked by the events of the past few days. Above all, I am stunned that misconduct on such a scale was possible in the Volkswagen Group.
"As CEO I accept responsibility for the irregularities that have been found in diesel engines and have therefore requested the Supervisory Board to agree on terminating my function as CEO of the Volkswagen Group. I am doing this in the interests of the company even though I am not aware of any wrongdoing on my part.
"Volkswagen needs a fresh start - also in terms of personnel. I am clearing the way for this fresh start with my resignation.
"I have always been driven by my desire to serve this company, especially our customers and employees. Volkswagen has been, is and will always be my life.
"The process of clarification and transparency must continue. This is the only way to win back trust. I am convinced that the Volkswagen Group and its team will overcome this grave crisis."
Berthold Huber will become interim chairman for VW group for the time being. In a statement he said:
"Mr Winterkorn has worked hard for VW and we would like to thank him for his efforts over the past 10 years, and also for his willingness to take responsibility in this most difficult of situations.
"To avoid speculation, I would like to say that we will talk about his successor on Friday at the earliest."
Tell me the numbers
The numbers make for astonishing reading: 11 million cars, €6.6bn set aside for recalls, a potential fine of up to €18bn (that's just in the US), €25bn wiped from VW's share price and all because of EA189.
Those three numbers and accompanying letters are at the root of VW's diesel disaster that originated in California on Friday afternoon and by Tuesday morning was a Europe wide issue.
Here's what we know so far.
What's in a name?
EA189 is the model name given to the 2-litre four-cylinder diesel engine at the centre of the failed emission test. It's an updated engine of the ubiquitous 1.9-litre pumpe duse motor that rose to popularity in the likes of the Mk4 Golf. In 1.9-litre guise the engine ran with VW's pumpe duse injection, a system designed by VW in reaction to rivals using high-pressure common rail fuel injection systems on its diesel engine.
The benefits to VW was it would not have to pay royalties to use a rival's common-rail system and it could deliver a higher injection pressure, albeit at the cost of refinement. But another issue was the original injectors used could not be controlled as precisely as those fitted to rival systems, and this was a major issue when it came to controlling emissions.
In 2009 Volkswagen switched its diesel engine to a common rail injection system, and it's this engine that has been found to have a hidden ECU map specifically deigned to allow the engine to pass the emission tests. In 2009 VW's 2-litre common rail TDI fitted to the Jetta won the Green Car of the Year Award, followed by the same engine fitted to Audi's A3 12 months later.
The EPA (the US Environmental Protection Agency) has also announced that it is to carry out further tests and on the Volkswagen 3-litre V6 turbodiesel engine, fitted to larger VWs, Audis and Porsche's Cayenne and Panamera models.
At this stage it is only VW cars sold in America that have been found to have the 'defeat device' fitted, and VW has said that its current cars meet European market EU6 emission regulations. However, it has not confirmed if pre-EU6 engined cars sold in Europe are affected. As a result, VW has set aside €6.5bn Euros to deal with the issue, although it's not clear at this stage how it intends to deal with the 482,000 cars that have been sold in the US and don't meet emission regulations. A recall is most likely as the engine's ECU can be flashed and updated online.
How much will this cost VW?
Will VW be expected to pay the full €18bn fine? Unlikely, but the group won't get off lightly and a fine running into billions is to be expected.
If the potential fine wasn't big enough, the value wiped off VW's share price will be greater still. On the first day of trading after the story broke nearly €15bn was wiped from VW's share price, and it dropped another €10bn the following day. But it's not just Volkswagen that's being hit. Daimler and BMW share values have dropped by more than five per cent, and in France both Peugeot and Renault have suffered similar drops.
Who is to blame?
So who is to blame? The rumour mill has been working overtime with this. Earlier this year Ferdinand Piech, VW's Chairman of the Supervisory Board stepped down following a fall out with current VW Chairman Martin Winterkorn, over the latter's perceived lack of success in growing VW's American market share and the approach he had taken in trying to do so. Earlier today, VW went to great length's to deny a story in the German press that Winterkorn was to be replaced by Porsche CEO Matthias Muller as early s this Friday.
While Winterkorn is unlikely to have made the decision to install the 'defeat device' it has happened on his watch and the financial consequences are such that only the head of someone at the very top will do. Volkswagen is making bold claims about internal investigations and 'not tolerating' this kind of behaviour, but while it's impossible to keep track of 450,000 employees customers and the financial markets will not accept the head of a mid-level executive for this one.
Anyone else involved?
Is Volkswagen the only company involved? Bosch are the suppliers of the majority of the injection components fitted to VW engines, but they are a supplier and don't make the decisions as to what to fit and how to utilise them, ultimately that's the customer's (VW) decision. The question, now, is Volkswagen the only car manufacturer engaging in such practices? At this stage no other manufacturer has come out and admitted it has discovered an issue with its car's ECU mapping; why would you? Instead, expect every manufacturer that has been chasing diesel market share since the 1990s to be preparing a worse case scenario plan and an ECU update.
Is diesel dead?
The last question is where now for diesel engines? From an evo perspective we'd love to see the back of them and the resources put in to producing cleaner, more efficient, lighter petrol engines that don't compromise performance but don't slavishly follow traditional routes of bigger is always best. On a wider scale diesel engines were facing an uphill struggle with future emission regulations already on course to be tightened, especially those surrounding NOx (mono-nitrogen oxides), and while manufacturers could have met the new targets, the cost to do so would have made diesel engines in small to medium cars (one of the biggest sector for diesel sales) less cost effective.
However, while governments are calling for investigations into emissions testing around diesel engines, some need to tread carefully, because if manufacturers are forced to change they will expect governments to follow and instigate clean fuel policies for its public transport including taxi services. Car manufacturers won't stand by while other sectors are allowed continue to pollute.   
What has VW done?
Volkswagen Group has instructed its US dealers to halt sales of certain four-cylinder diesel engined models after regulators discovered its cars were running illegal emissions test-cheating software. Order books for at least five models, including the VW Golf and Passat, are to be closed, as they feature complex algorithms that enable them to considerably reduce emissions during laboratory and station tests. 
While software that can reduce emissions might sound good, it's the fact that the reduced emissions are only possible in test scenarios, meaning during normal driving the engines produce as much as 40 times more nitrogen oxide than previously thought. This is not only in breach of the tests and the US's Clean Air Act, but also means that a suspected 482,000 cars (built between 2009 and 2015) are emitting significantly more harmful gases into our atmosphere.
Unsurprisingly, with the prospect of an $18 billion fine looming over the company, VW share prices have plummeted by 23 per cent, and VW Group CEO, Dr Martin Winterkorn, has issued an apology, stating that VW 'will do everything necessary to reverse the damage this has caused'. 
The first step appears to be to halt sales of affected cars, meaning buyers will be unable to order new four-cylinder diesel VW Golfs, Passats, Jettas, Beetles and Audi A3s until further notice. There's no word as to whether VW will issue a recall for existing cars, though the US's Environmental Protection Agency (EPA) has confirmed that these cars do not present a significant safety hazard and therefore can continue to be used. 
Diesels and their nitrogen oxide emissions have been the subject of attention in Europe recently too, thanks to a drastic increase in the harmful gas's output. NOx is known to cause respiratory-related illnesses, and with diesels representing half of all UK car sales, pressure has been placed on the car industry to clean up tailpipe emissions.