evo has partnered with MSV trackdays to bring you How Fast, in association with Sky Insurance, The Performance Car Insurance specialists. Held at Bedford Autodrome, How Fast days feature F1-style qualifying timed laps and a How Fast Leaderboard, and are amongst the best and safest ways to test your car's and your own ability on track.
Below you can see the live timing for our 31st of October event.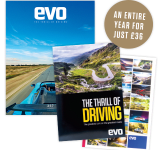 Subscribe to evo magazine
evo is 21 and to celebrate, we're returning to 1998 prices! Subscribe now to SAVE 39% on the shop price and get evo for its original cover price of £3.00 an issue, plus get a FREE gift worth £25!
Session 1: 
| | |
| --- | --- |
| Name | Time |
| Richard Wheeler | 1:27:711 |
| Simon Long | 1:29:001 |
| Barny Francis | 1:29:171 |
| Adam Aspinall | 1:29:189 |
| Guy Thatcher | 1:30:200 |
| Gordon Crouch | 1:30:997 |
| Chiharu Tanaka | 1:32:321 |
| Terry Robertson | 1:32:830 |
| Stuart Albone | 1:32:998 |
| Mark Graves | 1:34:781 |
| Tomonori Matsushita | 1:35:660 |
| John Albone | 1:36:030 |
| Ben Coombes | 1:37:863 |
| Mark Parsley | |
| Brian Waters | |
Session 2
| | |
| --- | --- |
| Name | Time |
| Duncan Cowper | 1:14:593 |
| Mark Richards | 1:23:555 |
| Dean Stoneman | 1:24:308 |
| Martyn Witton | 1:25:464 |
| James Bath | 1:27:620 |
| Chris Martin | 1:29:858 |
| David Veit | 1:30:126 |
| John Dunn | 1:30:766 |
| Lewis Pemble | 1:32:476 |
| Steve Dobbie | 1:35:191 |
| Toby Galbraith | 1:37:247 |
| Tom Downes | 1:37:676 |
| Alex Read | 1:38:613 |
| Al Malton | 1:39:414 |
| Matt Grassick | 1:39:868 |
Session 3
| | |
| --- | --- |
| Name | Time |
| David Kibbler | 1:22:590 |
| Steve Gales | 1:28:110 |
| Ben Albery | 1:28:993 |
| David Noble | 1:29:021 |
| Kris Blundell | 1:30:281 |
| Nichols Cowley | 1:29:685 |
| Tim Smith | 1:32:136 |
| Henryk Schmed | 1:31:563 |
| Will Beautmont | 1:39:020 |
| Alan Munns | 1:42:216 |
| James Abbott | |
Session 4
| | |
| --- | --- |
| Name | Time |
| evo 420r | 1:24:377 |
| Phil Morrison (Sky Insurance) | 1:26:109 |
| Steve Gales | 1:26:908 |
| Evo Cayman | 1:27:109 |
| James Robinson (Sky Insurance) | 1:27:752 |
| Christophe Leemanyan | 1:28:532 |
| Nicholas Cowley | 1:30:485 |
| Simon Stocks | 1:36:445 |
| Alex Bradbury | 1:37:146 |
| Alex Kersten | 1:39:805 |