What do you think of evo?
You can tell us below stories of course, or reply to us via our Facebook, Twitter and Instagram accounts, but there is a better way - the 2016 evo feedback survey.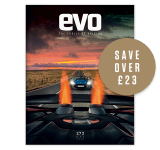 Subscribe to evo magazine
Subscribe today to have every issue of evo delivered straight to you. You'll SAVE 39% on the shop price, and get evo for its original cover price for a whole year!
It's your chance to let us know how we're doing, what you like, what you don't, what we could change and what you'd like to see more of. It'll only take five minutes (though if you write us your magnum opus, it may take longer), and since it's all done via a handy web form there'll be no opportunity for us to mock your social media profile picture or poor choice of haircut.
It'll also enter you into a draw to win one of five evo goody bags. What do these contain? Nobody knows for sure, but you can't go too far wrong with goody bags, can you? It'd make a mockery of the name if there wasn't actually anything "good" contained within.