Gumpert to be reborn as Apollo Automobil - new 'ApolloN' car set for Geneva unveiling
Brand rename and new supercar in the works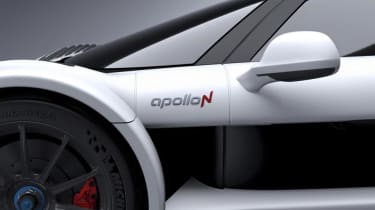 Gumpert, makers of the slightly unhinged Apollo, is set to reveal a new car at the Geneva motor show next month. Called the ApolloN, it'll be the first car manufactured under Gumpert's new brand name - Apollo Automobil.
The ApolloN has some big shoes to fill as its predecessor, the Gumpert Apollo, was one of the fastest road cars we've ever tested. It could achieve 0-60mph in 3.0 seconds and had a top speed of 220mph. Apollo Automobil remain ambitious with a claim that "Today we are still building the fastest road car on the planet".
What hasn't been revealed is if the ApolloN will be based on the old Gumpert Apollo or not, but considering it hasn't been long since Ideal TeamVentures bought Gumpert, it would be surprising if it were an all new model. The teaser image Apollo Automobil has released looks very much like the old Apollo, too. So we'd still expect to see it being powered by Audi's 4.2-litre 90-degree V8 and a sport a carbon fibre body.
New owners, Ideal TeamVentures are a Chinese company who bought Gumpert in January. They also aquired De Tomaso in 2015, and originally it was expected they would use the brand to build Chinese made cars.
Gumpert was founded by Roland Gumpert, a previous director of Audi Sport. Roland Gumpert led Audi in its famously revolutionary Quattro rally days and he remains involved with Apollo Automobil to this day.