Audi confirms Formula E entry
German marque to enter factory team in all electric race series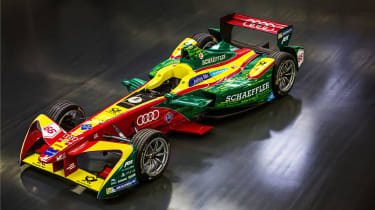 Audi has confirmed it is to enter a factory backed team into the FIA Formula E Championship team from the 2017/18 season. This will follow an increase in its support of the ABT Schaeffler team for the forthcoming 2016/17 season.
The German manufacturer has had an association with the electric single-seater formula since the inaugural 2014/15 season through it support of the ABT team and the loaning of factory works driver Lucas di Grassi. ABT has also had access to Audi Sport's Neuburg HQ during this time. 
For the 2016/17 season Audi Sport will increase its financial and technical support of the ABT team and for the 2017/18 season Audi Sport will become a fully-fledged factory team within Formula E and will work with technology partner Schaffler in the development of the single seater. 
Audi's increased involvement in Formula E coincides with a number of rule changes to the sport, which will allow teams to have a far greater involvement in the development and production of the electric powered race cars, although both the batteries and chassis will still be manufactured by a single supplier (currently Williams and Dallara).
The move by the German giant will be the first time it has had a factory involvement in a single seater category and will put an end to the annual speculation that Audi is set to join Formula 1. 
By joining Formula E, Audi will have a platform in which to market its growing range of electric cars under the e-tron brand, and it will also see it go head-to-head with Renault and Jaguar (the latter joins the series for the 2016/17 season) and possibly BMW, who is allegedly evaluating the Championship and is said to be working with the US based Andretti team as a technical partner. 
A gradual build up to entering a factory supported team in 2017/2018 could also see Audi Sport slowly wind down its participation in the World Endurance Championship, a series it has dominated. However, at the moment Audi remains committed to the endurance championship with its R18 e-tron. 
The opening round of the 2016/17 FIA Formula E season will be held in Hong Kong on 9 October.