Jaguar Racing launches factory-backed Formula E team
Jaguar's 'I-Type 1' the latest entry into rapidly growing electric motorsport
Formula E's popularity continues to grow, with Jaguar Racing unveiling its official entry into the sport ending a near 10 year hiatus of factory-back motorsport competition.
The car, called the I-Type 1, has been developed alongside Williams Advanced Engineering and will be driven by Mitch Evans and Adam Carroll.
Jaguar isn't the first car manufacturer to make an entrance into Formula E. Audi recently announced plans for a factory-backed 2017/2018 entry into the sport.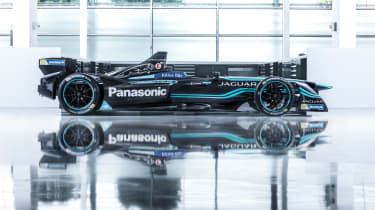 Jaguar says it plans to use the Formula E program to help develop future electric road cars. The entry into Formula E is a new venture for Jaguar, with its last proper entry in motorsport consisting of efforts in F1 from 2000-2004.
"Over the next five years we will see more changes in the automotive world than in the last three decades. The championship will enable us to engineer and test our advanced technologies under extreme performance conditions. We will apply this vital knowledge as part of our real world development." said Nick Rogers, Executive Director, Product Engineering at Jaguar Land Rover.
Formula E's third season starts in Hong Kong on the 9th October. Audi's entry will consist of a partnership with ABT for this year, moving to a full factory-backed Audi Sport setup the following season.