An evening with Adrian Newey in association with evo & Octane - Tickets now sold out!
Tickets for an evening with one of F1's most successful engineers are now sold out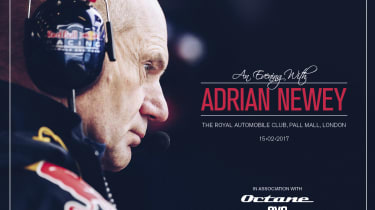 Adrian Newey has arguably had a greater impact on modern Formula 1 than anyone else in the sport. 
evo and our sister title Octane are hosting An Evening With Adrian Newey at the Royal Automobile Club on Pall Mall, London, on February the 15th 2017.
The evening will take the form of a Q&A session with Newey, currently Chief Technical Officer at Red Bull Racing, during a three-course meal with wine in the RAC's restaurant.
There will be much to talk about. Newey has helped secure ten Formula 1 Constructor's titles over the years, including five with Williams between 1991 and 1997 - helping Nigel Mansell, Alain Prost, Damon Hill and Jacques Villeneuve take driver's titles - one with McLaren in 1998, and four more with Red Bull Racing.
Tickets for the event are now sold out but keep an eye out for similiar events in the future.