New evo on sale now
End the year on a high with the new issue of
Twenty-thousand pounds. It's enough to put you behind the wheel of a brand-new and well-specced Fiesta ST, or perhaps even a Renault Sport Mégane if you can find the right deal. Consider buying used, though, and it's enough cash to open up a world of petrol-slurping wonders.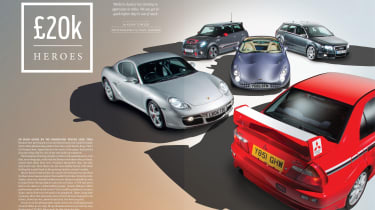 That's the premise of our cover story for the new issue of evo. Five very different cars, all espousing the Thrill of Driving, and all available for less than £20,000. With an Audi RS4, Mitsubishi Evo VI Tommi Mäkinen, Porsche Cayman S, TVR Tuscan and a psychotic Mini John Cooper Works GP all in the mix, the toughest task is deciding which one we'd have…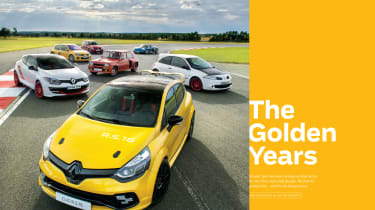 We've also driven the cars that over the years have endeared Renault to us in a way that very few manufacturers can match. That means little Clios with mid-mounted V6 engines and remote-reservoir dampers, a turbocharged R5 homologation pocket rocket, Méganes with the same obsessive approach to going fast as a Porsche GT3 RS, and a modern hatch so hardcore that Renault Sport couldn't justify putting it into production, no matter how hard its engineers pleaded. If you've ever wondered what the fuss over this quirky French marque is all about, this feature offers ample evidence.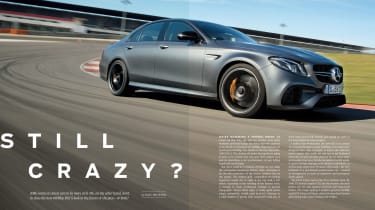 There are no prizes for knowing why we make a fuss about AMG: sensible cars gone bad with the addition of loud exhausts and massive engines. We've driven the new, 600bhp Mercedes-AMG E63 S to find out whether something of the old-school AMG charm has been lost as the model gets more refined (hint: it hasn't).
This issue's Icon feature is set in Scotland with the car that turned Ferrari's fortunes around in the 1990s. 'Legend' is an overused term, so does the F355 deserve its status as being responsible for kicking starting Ferrari's successes?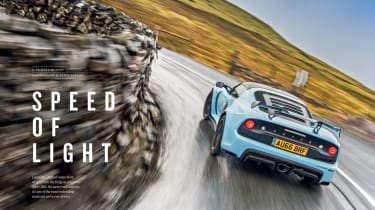 With the core bases of excessive power and nostalgia neatly covered by the AMG and the Ferrari, we've also got something special for all the weight-weenies out there: a new Lotus. And not just any Lotus – the Michelin Cup 2-shod, 375bhp, 1110kg Exige Sport 380. This is Lotus's idea of a supercar, and not only does it possess the pace to match the big names, but it also mullers most of them for involvement. Dickie Meaden does his best to tame its rear axle on the soggy roads of the Yorkshire Dales.
The new cars we've reviewed this month include Lexus's LC500 (looks exotic, but is it any good?), the latest BMW 5-series, Aston Martin's final naturally aspirated GT car – the Vanquish S – and Audi's sharp S5. There's also all the usual insight from our columnists, a buying guide on the EP3 Honda Civic Type R, and plenty of happenings in Fast Fleet, including the arrival of our new (and very purple) BMW i8 and Volkswagen Golf GTI Clubsport Edition 40.