Avatar Roadster unveiled - 350bhp, 695kg, two-seater sports car
A new, track-ready, British sports car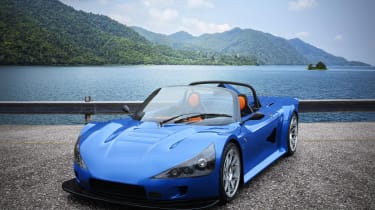 Devon based car manufacturer, Avatar, has unveiled its first production car at Autosport International. Simply called the Roadster, the new car is a two-seater, mid-engined convertible and costs £39,990. 
The Roadster is powered by either a 2-litre or 2.3-litre version of Ford's turbocharged EcoBoost engine. The smaller of the two engines produces 250bhp and 295lb ft of torque, while the bigger engine puts out an extra 100bhp and 74lb ft more torque. That extra power comes without a weight disadvantage too, both engines are just as heavy as one another and the Avatar Roadster weighs 695kg.
The 2-litre version hits 62mph from a standstill in 4 seconds flat, while unsurprisingly the more powerful 2.3 is faster completing the run in just 3.6sec. It's a familiar story with the top speed too; the 2-litre car can reach 145mph but the 2.3 version goes onto 165mph.
> Click here to read our review of the Ford Focus RS
The standard gearbox is also from Ford and is the same six-speed manual used in the latest Focus RS. However, there is also an optional seven-speed paddle-operated sequential gearbox from Quaife.
This motorsport-style transmission hints at the Roadster's race car derived underpinnings; it has a laser cut space-frame chassis, composite bodywork, Nitron dampers and Rota wheels. It can also be ordered with a full roll-cage, plumbed-in fire extinguisher, foam-filled fuel tank, and rear wing. Sadly, the limited slip differential is also an option, rather than standard fitment.
It's not just a race car for the road, though. The Avatar Roadster comes with a roof, heater, air conditioning and even an audio system that supports Apple CarPlay and Android Auto. For those who will still use their Avatar on track it can be had with a data logger and a GoPro kit.
The Avatar Roadster can even appeal to your more pragmatic side, too. It comes with an unlimited-mile, three-year warranty and the engine can be serviced at any Ford dealer.