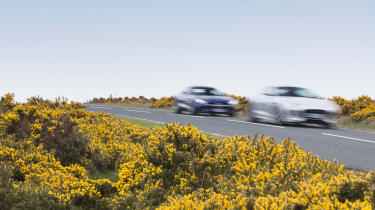 Keeping Britain's roads safe is a top priority, so in efforts to reduce the number of accidents and road deaths, the government introduced new rules surrounding speeding penalties in 2017. The new speeding fine laws don't blanket harsher penalties across all offenses, but instead concentrate on the very worst offenders who pose the most risk to the public.
Should a driver receive an excessive speed penalty, they'll be fined an amount equal to 150 per cent of their weekly income, up 50 per cent from before 2017's changes. These will be given solely to the very worst offenders, with speeds falling under 'Band C', the highest category in the table below.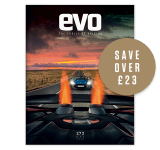 Subscribe to evo magazine
Subscribe today to have every issue of evo delivered straight to you. You'll SAVE 39% on the shop price, and get evo for its original cover price for a whole year!
Over 100,000 UK drivers help fill the HM Treasury coffers with millions of pounds a year, the most dangerous being removed from our roads in the process, receiving bans of varying lengths depending on the severity of the offense.
Not only have speeding fines seen a change-up, punishment for mobile phone usage is now double what it once was, mounting to £200 and six points for anyone caught breaking the law.
2020 UK speeding fine bands
Fine ceilings for speeding were previously £1000, or £2500 if caught on a motorway. The higher motorway cap remains, however law enforcement have been instructed to hand out a greater number of the maximum-level fines. Details of the various speeding bands are displayed in the table below.
Speed Limit (mph)

 

Recorded speed (mph)

 

 

Band C

 

Band B

 

Band A

 

20

 

41 and above

 

31 - 41

 

21 - 30

 

30

 

51 and above

 

41 - 50

 

31 - 40

 

40

 

66 and above

 

56 - 65

 

41 - 55

 

50

 

76 and above

 

66 - 75

 

51 - 65

 

60

 

91 and above

 

81 - 90

 

61- 80

 

70

 

101 and above

 

91 - 100

 

71 - 90

 

Points/disqualification

 

Disqualify 7 to 56 days or 6 points

 

Disqualify 7 to 28 days or  4 to 6 points

 

3 points

 
Under the old speeding fines system, fines falling under bands B and C equaled 100 per cent of offender's weekly income. However that has now increased to 150 percent. Offenders could be subject to the double whammy and banned from driving for up to 56 days or get six points on their licence.
The current minimum fine of £100 and three points remains according to www.gov.uk. What's more, law abiding citizens with a clean licence may still be able to circumvent the points hit by attending a speed awareness course. Previous speeders will not be extended such opportunities, and they will see their points total climb further towards a ban.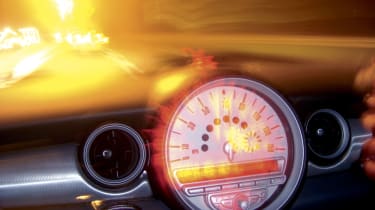 It's understood the majority of Band A fines will equate to a half of your weekly wage. However, this initial fine could be adjusted subject to the court's discretion based on the specifics of the case in question. Such variables include, poor weather, the population density of the area or the timing of an offence in relation to previous convictions committed (if applicable).
The same adjustment can be made to Band B and C fines too. Look below to see the various adjustment rates.
 

Starting point

 

Range

 

Fine Band A

 

50% of weekly income

 

25 – 75% of weekly income

 

Fine Band B

 

100% of weekly income

 

75 – 125% of weekly income

 

Fine Band C

 

150% of weekly income

 

125 – 175% of weekly income

 
What could a speeding ticket cost you?
The average speeding fine in 2015 was £188 with over 150,000 falling prey to speed cameras and traffic patrol units. With fines rising by 50 per cent the average fine could increase to £282. Although the £100 minimum, which is likely to be the most frequent fine, may reduce that average.
Using the UK's average salary as a reference we will go through a few eventualities to explain the increased fines. According to the Office of National Statistics, the average salary as of April 2015 stood at £27,600. Read below to find out what you could pay if you earn the average UK wage.
Band A offence example
If you were caught travelling at a recorded speed of 36mph in a 30mph zone you would be prosecuted under Band A rulings.
Three points will go on your licence.
The initial fine would be £265.38, 50 per cent of your weekly wage.
Depending on the circumstances the final figure could range between: £132.69 (25 per cent of your weekly wage) and £398.08 (75 per cent of your weekly wage).
 

Fine value

 

Per cent of weekly earning

 

Starting point fine

 

£265.38

 

50

 

Maximum fine

 

£398.08

 

75

 

Minimum fine

 

£132.69

 

25

 
Band B offence example
69mph in a 50mph zone:
 

Fine value

 

Per cent of weekly earning

 

Starting point fine

 

£530.77

 

100

 

Maximum fine

 

£663.46

 

125

 

Minimum fine

 

£398.08

 

75

 
Band C offence example
105mph in a 70mph zone:
 

Fine value

 

Per cent of weekly earning

 

Starting point fine

 

£796.15

 

150

 

Maximum fine

 

£928.85

 

175

 

Minimum fine

 

£663.46

 

125

 
Mitigating factors
The sentencing council quote a number factors that can increase or decrease the severity of your sentence should you end up facing a judge. Here below we list the factors that could work in your favour or land you with more points or longer a period of disqualification.
Factors reducing seriousness or reflecting personal mitigation
Genuine emergency established
No previous convictions or no relevant/recent convictions
Good character and/or exemplary conduct
Factors increasing seriousness
Previous convictions, having regard to a) the nature of the offence to which the conviction relates and its relevance to the current offence; and b) the time that has elapsed since the conviction
Offence committed whilst on bail
Towing caravan/trailer
Carrying passengers or heavy load
Driving for hire or reward
Poor road or weather conditions
Driving LGV, HGV, PSV etc.
Offence committed on licence or post sentence supervision
Evidence of unacceptable standard of driving over and above speed
Location e.g. near school
High level of traffic or pedestrians in the vicinity
Further still, should you acknowledge your driving infraction and plead guilty to the offence, the court may reduce your sentence, taking into account all other circumstances.