Mazda RX-7 Group B rally car to go under the hammer
A pristine version of Mazda's quirky Group B rally entry could be yours – for the right price.
We are unashamed fans of Group B rally cars here at evo, but did you know that Mazda also had a foot in the door? Better known for its rotary powered 787b Le Mans winner, the quirky Japanese brand also had its eye on Group B. So Mazda developed the RX-7 Evo Group B Works - and now there is one up for grabs at RM Sotheby's London auction this September. 
What is it?
Based on the first generation FB Mazda RX-7 coupe first released in 1978, the RX-7 Evo Group B Works rally car was built between 1983 and 1987, controversially eschewing the Group B norms of all-wheel drive and enormous turbochargers. The RX-7 instead insisted on rear-drive and the use of a modified version of the standard car's naturally aspirated 13B twin rotor engine. The engine was fed by MRT-modified Weber 51A carburettors, feeding fuel directly into the rotor housing. 
The resulting power was a total of around 300bhp produced at an impressive 8000rpm, supplemented by a conservative 197lb ft of torque, typical of a rotary engine. Power was then sent to the rear wheels via a five-speed manual gearbox - which is bestowed, like many competition cars of the period, with a gorgeous wooden gearknob.
> Click here for our drive of the FD Mazda RX-7
These decisions were all made in the name of reducing weight, with the car slipping under the one tonne barrier at 960 kg. In aid of weight distribution, Mazda's engineers placed the engine four inches further back in the engine bay and fitted it with a dry sump, placing the reservoir and cooler at the rear of the car to try achieve an even weight balance front to rear.
Mazda bulked up the chassis too, widening the tracks front and rear and fitting a huge – although positively subtle compared to some Group B rivals – rear wing with an inbuilt oil cooler.
What makes this one special?
The car that will be up for auction is chassis number MRTE 019 – unique in that it's the only car never have to been raced in competition. As a late entrant into the class, the RX-7 Evo was never able to grab a foothold in Group B rally before the sport's demise in 1986. 
Initially purchased by a Swiss Mazda importer, MRTE 019 sat in a private collection before being purchased before being purchased by a British enthusiast who has been happy for Mazda UK to retain the car on loan at their head office, where it has been on display for the summer. Without a guide price published as yet, it is anyones guess what it will go for come auction day.
The Mazda RX-7 Evo Group B Works is not the only interesting set of wheels up for grabs at RM Sotheby's this September – keep scrolling down to see a few more of our favourites…
Ferrari 365 GT4 BB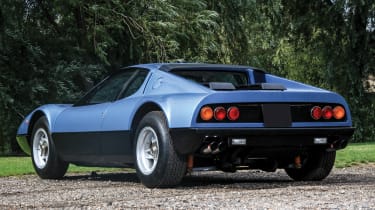 The Ferrari 365 GT4 BB was the first of Ferrari's flat-12 cars, featuring the engine that would eventually go onto define iconic models like the Testarossa. Based on the internals of the 365 Daytona, the 365 GT4 BB flattened the V12 block to 180 degrees and mounted it longitudinally behind the driver. This specific Azzuro Metallizzato example is one of just 58 UK delivered RHD cars, but quickly after delivery was shipped to Asia where it was rumoured to have been owned by the Thai royal family.  
Nissan Skyline R34 GT-R V-spec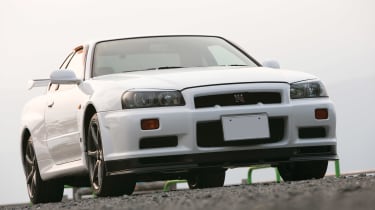 The Nissan GT-R may be a relatively familiar sight on UK roads today, but the GT-R's forbearers are far more elusive. It may have gained its popularity from video games and movies, the R34 Skyline GT-R was a revelation upon its release in 1999, featuring the most complex four-wheel drive system in the business. This V-spec car was limited to 1000 units and sold exclusively in Japan. Despite the 280hp gentlemens agreement in Japan, the V-spec is suspected to have closer to 400bhp in standard trim – and that's before the tuners got their hands on them. This example is a leggy 98,000 mile Japanese import, but in terms of iconic 90's Japanese sports cars, few are more sought after.