How to SORN your car - what is a Statutory Off Road Notification?
Here's a comprehensive guide on how to SORN our car with the DVLA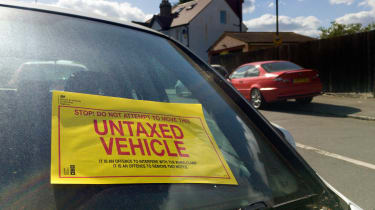 The acronym SORN stands for 'Statutory Off Road Notification'. It's a declaration made by the owner of a registered vehicle confirming they're removing their car from the public highway. By doing so you're no longer required to pay road tax. Essentially, you're informing the DVLA a vehicle is registered but not in use.
You might want to declare a car SORN if you've bought a 'project car' that's going to be parked off the road while you work on it or if an accident or mechanical issue has rendered your car undrivable and you need a bit of time to get the funds together for repairs. Basically, if you're taking you're taking a car off the road, a SORN is the way to save the money you would have spent on road tax and insurance.  
Fortunately, you can head to the DVLA website and carry out the declaration whenever, avoiding delays while you post the forms or stand in the agonising queue at a DVLA branch. Should your insurance and road tax expire and you haveno intent to renew them, you can let the authorities know without much hassle. The whole process can even be carried out over the phone.
As the name suggests, once declared SORN, your car must be off the road and stored in a garage or kept on private land.In the eyes of the law, there's no difference between a regularly used car and one that's been parked curbside for years. If it's on the road, it must be taxed and it must be insured. Revisions to taxation and insurance laws have been brought in to weed out uninsured and untaxed road users. The knock-on effect has seen the Government handing out fines to negligent owners without either certification on a more regular basis.
Unfortunately the DVLA does not extend a grace period once your tax has lapsed. You must SORN your vehicle immediately. The DVLA runs constant checks, cross-referencing untaxed vehicles with the national insurance database which will also flag-up those without cover.
>Click here to see everthing you need to know about speeding fines
If your road tax expires, the DVLA assumes that your vehicle is the off the road but you've yet to notify them. Subsequently a warning letter will drop through the door, ignore it and an automatic £80 penalty for no road tax will follow, or £100 if your car's uninsured. Should you be found driving the car without road tax you can be prosecuted.
Neglect the fine and you'll find yourself standing before a magistrate who could raise the fine to £1000 – plus court costs – for either tax or insurance infringements . Waiting for the warning letter is a risky game, the DVLA aren't obliged to remind you of your infraction, you're solely responsible and thus liable to be fined.
When you must make a SORN declaration
If you buy a car and do not tax and insure it immediately. Tax is no longer tied to the vehicle and is void during a change of ownership.
If you purchase a car that's already on the SORN register. You must reapply.
If your road tax expires and your car is the off the road for more than 14 days.
If your car is not insured.
If you break your car for parts, or scrap it.
How to declare Sorn for your car
Whether you SORN your car by post, over the phone or online it's a fairly simple process.
You'll need your registration number and make and model info to hand, as well the 16-digit reference number from you V11 car tax renewal reminder or the 11-digit reference from the car's V5C logbook.
Online – visit www.gov.uk/make-a-sorn
By post – use form V890 (available from the Post Office) and mail it to the DVLA.
By telephone – call the DVLA on 0300 123 4321
Is it illegal to drive a car that's Sorn?
There's only one occasion when the authorities will permit a SORN vehicle on the public highway – when you're on your way to a pre-booked MoT test. Should you decide to take to the roads in a SORN vehicle, if you don't encounter any traffic officers, there's a good chance you'll be snapped by an ANPR system. Before you know it, you'll be facing prosecution and up £2500 poorer.