Gov announces 60mph motorway speed limits to reduce vehicle emissions 
The speed limit will be cut from 70mph to 60mph on some sections of UK motorway in a bid to reduce pollution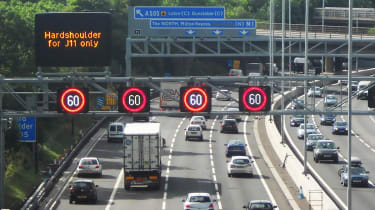 Highways England is embarking on a trial of reduced speeds on certain sections of motorway with a new 60mph speed limit designed to examine the effects of pollution caused by high motorway speeds. The move comes in response to an increase in the levels of nitrogen dioxide (NO2), a pollutant tied to a growth in respiratory illnesses.
Only four locations will see the change during the trial, but Highways England may soon extend it should the 10mph reduction in speed result in a marked reduction in pollution levels.
> UK speeding fines 2020 – what are the latest penalties for drivers?
The affected motorways include the M1 between junctions 33 and 34, the M6 between junctions six and seven, the M602 between junctions one and three and the M5 between junctions one and two - each stretch being around 4.5 miles in length. Lower limits have already been implemented on sections of the M32, A1, M4 and M621. 
The new limits will be clearly displayed on roadside signs and enforced 24 hours a day for between 12 and 15 months, with potential for an extension should the trial be deemed a success. Drivers caught travelling at the previous limit of 70mph in these zones could be hit with a £100 fine and three penalty points. 
> New info reveals UK speed camera tolerances
The Chancellor has dedicated £27 billion to upgrading the UK's Strategic Road Network (SRN) of motorways and major A roads before 2025, with the likes of emissions barriers also being considered to prevent pollution from spreading to nearby residential areas. Over 100 sections of the SRN are considered to be in danger of exceeding NO2 limits, of which many are short stretches between junctions near towns and cities.
Officials have stated that schemes such as this will only continue to be put into place until pollution is tackled by vehicle manufacturers themselves.