Variable motorway speed limits to be reviewed
Tenfold increase in drivers issued with tickets on variable motorways forces Highways England to investigate.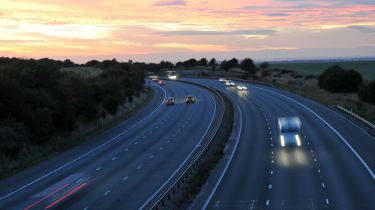 A substantial increase in speeding tickets, issued to drivers caught exceeding reduced limits on motorways in 2017 has sparked an investigation by Highways England.
72,348 drivers were penalised for exceeding variable speed limits on motorways in 2017, up from 7,064 in 2013 and 45,919 in 2016, according to Police data.
> UK speeding fines - what the changes mean for drivers
Of all the speeding tickets issued in 2017 on motorways with variable speed limits, 67 per cent were given to drivers traveling at 69mph or less, implying that the majority of infractions occur on stretches of the motorway with lower limits imposed.
Detailing how it determines reduced limits for specific sections of motorways, Highways England revealed it uses predictions based on 'historical road usage'. This explains why a reduced limit may be active when there's little or no congestion, something too many motorists are familiar with according to Edmund King, president of the AA. 'We have too many members saying they're driving down an absolutely open road with 50 or 60mph speed limits on the overhead gantries.'
Speaking about the system, Jim O'Sullivan, Highways England's chief executive, said it has caused "dissatisfaction" among drivers. He went onto say: 'Nobody has a perfect product and there is some room for improvement on how those limits are set.'
However, he highlighted the need to preempt congestion by limiting speeds. 'We have to set the speed limit before the congestion appears… If you don't set the limit before there is no point having the speed limits'.
Highways England reduced the amount of time variable limits were in place across the UK's smart motorway network by around 200 hours in February 2017, and revised guidelines have been written for speed limit operators. Furthermore, the organisation said it had, 'improved the way we set message signs and signals on smart motorways', however the review will still go ahead.