Supercar Owners Circle hosts charity track day at Goodwood
Supporting the Laureus Sport for Good foundation, S.O.C chairty track day featured some of the world's most amazing supercars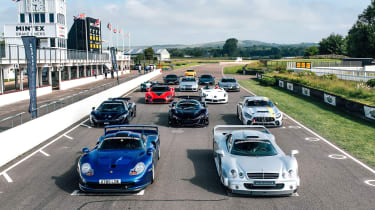 The Supercar Owners Circle hosted its latest track day on June 4th, in part, to support the Laureus Sport for Good foundation, a charity set up to tackle challenges faced around the globe by those in disadvantaged circumstances. Held at the Goodwood racetrack in the south of England, the event brought together some of the world's rarest and most iconic supercars.
The Supercar Owners Circle is an exclusive supercar club, bringing together owners of some spectacular machinery together at curated events all over the world.
> Click here for our look at the Aston Martin Vantage
Laureus Ambassador, and former F1 champion, David Coulthard was in attendance of the event, as was a variety of spectacular supercars, like the Mercedes-Benz CLK GTR, Porsche 911 GT1 and Jaguar C-Type.
Attendees were also given an exclusive look at the new Zenvo TSR-S, the Danish supercar launched at this year's Geneva motor show, perhaps best known for its 'seesaw' rear wing, that hydraulically adjusts its angle on the fly to aid downforce on the race track.
After a day on the track, attendees were also offered a gala dinner inside of Goodwood House to round out the day's activities.
The SOC Charity Track Day is the second event on the 2018 calendar, with a further two weekend-long events planned in Switzerland and Abu Dhabi later this year.