Brabham BT62 to race at Le Mans
Brabham Automotive plans on entering the GTE class in 2020/21 with its BT62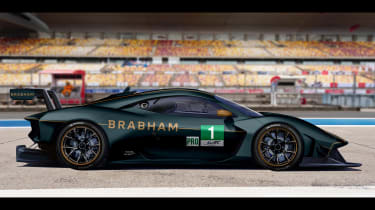 Brabham Automotive has been in the headlines of late as it prepares to roll out the racing – soon to be road-going – BT62. But this is the news we've all really been expecting: Brabham's return to endurance racing, and specifically Le Mans.
Testing of the new racer has already begun, with the intention of entering the 2020/2021 season with a GTE-class competitor. The car will be backed by a full factory racing team with direct links to Brabham's Driver Development programme, allowing customer race teams to benefit from the Le Mans racer's development. Brabham, of course, has history in factory racing, proudly being the one and only team to win a Formula One race with its team boss, Sir Jack Brabham, at the wheel.
> Find out more about the Brabham BT62
This news comes just after Brabham Automotive's announcement of plans to offer a road-going compliance package for the BT62, so it can be driven on the public highway. It follows calls from customers wanting to drive their £1.2million Brabham to and from the circuit.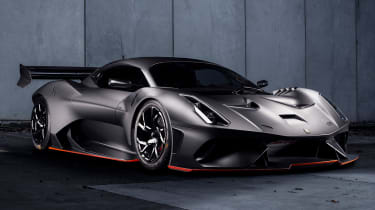 Principle tech changes over the race car focus on tweaks to the ride height and steering rack, with the former raised and latter slowed a little to give drivers an easier time on the road. Brabham will also fit air-conditioning (essential in Middle Eastern, Asian, and Australian markets), door locks and an immobiliser.
Brabham has added further leather trim inside, but that's unlikely to disguise the fact that the cockpit is extremely track-focused. The race-derived V8 engine and gearbox are unchanged, however, while the weight gain over the track-only model is marginal.
How much for all this 'luxury'? Brabham is charging a further £150,000 for the road package, on top of the £1.2million basic price. It'll be fitted in the UK, after cars are shipped from their manufacturing base in Adelaide, Australia. The package is so far only homologated for European markets, but will expand into others such as Australia and the Middle East in due course.
In the meantime, the BT62 has also made its dynamic debut at the Phillip Island Grand Prix circuit in Australia, with Brabham managing director David Brabham at the wheel. During the shakedown the BT62 broke the all-time lap record at the Victoria-based circuit. Quite clearly, then, the boss, a Le Mans veteran, didn't hold back – the car's 5.4-litre V8 could be heard in full voice all round the 3.3 mile-long lap as he puts the BT62 through its paces.
Brabham said: 'From my very first drive it was clear that we had created something really special. It had to be faster than the current breed of GT racing cars, but balance outright performance with durability.'
Still clad in a zebra-patterned camouflage attire, the BT62 is now in its final stages of development, with first deliveries due before the year is out.