Fisker to build all-electric midsize SUV to rival Tesla Model Y
The makers of the petrol-electric Karma saloon have resurfaced with a teaser of an upcoming midsize all-electric SUV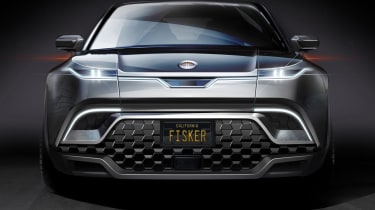 Following its financial struggles in 2014 and very little activity since, Fisker has shown the first image of its upcoming SUV.
The first in the marque's trio of upcoming affordable EVs, the midsize SUV will go up against the new Tesla Model Y with a sub-$40,000 price tag. The model is expected to come to market in the second half of 2021, coinciding with the launch of the base $35,000 Model Y.
> Fisker EMotion shows-off butterfly doors in latest pictures
Performance figures are yet to be announced, however we do know that the car will feature an all-wheel-drive system consisting of two electric motors on each axle, with power coming from an 80KWh lithium-ion battery pack for a range of around 300 miles. Sadly it won't feature the solid state battery tech the brand's working on for its future flagship performance saloon.
Although only a single head-on image has been shown so far, it's clear that the car sports a very different design language to that of the Tesla, with more aggressive, traditional styling elements. For maximum efficiency, the grille required on combustion cars has been replaced by a small centre-mounted radar, sitting behind glass. The dominant, patterned bottom section does have the ability to direct air where it's needed most for cooling. Wheels of the 22-inch variety will also be available as an option.
Inside, the car will feature an infotainment system and a 'large' head-up display. Though it's not entirely clear what this means, Fisker says 'an extended open-air atmosphere' will be made possible with the touch of a button. Also mentioned is how the lack of a roof won't compromise the structural integrity, perhaps pointing towards the use of a monocoque.
Final pricing details and a working prototype are expected to be revealed by the end of this year, with early deposits being taken closer to the start of production in 2021.