Insurance write-offs uncovered for sale with clean vehicle history
Cars with a hidden write-off history are being sold to unsuspecting buyers. This is how...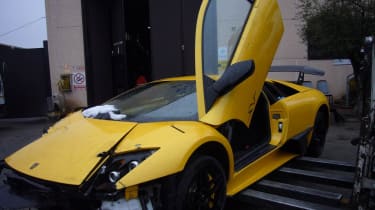 Exclusive reporting from our sister title Auto Express has uncovered a loophole allowing cars deemed a serious write-off to be sold to unsuspecting buyers with a clean vehicle history check.
Regardless of the category status applied (which is given when a car is damaged and then  registered through all insurance companies) some of these cars have then gone on to be sold through some dealerships and auctions with a clean bill of health, even when a full vehicle history check had been completed by both HPI and Experian AutoCheck.
> Click here for more on incoming mandatory speed limiters
Although it's a legal requirement to register a damaged or written-off car to the DVLA, it's not a legal requirement to do so for the Motor Insurance Anti Fraud and Theft Register, or MIAFTR, the database that most history check providers actually use. Although 97 per cent of vehicle insurers do register to this database, it's that three per cent that slip through the cracks and return a clean history if it is put back up for sale.
Cars that only have third-party insurance, paper-based write-offs or are uninsured altogether are also liable to slip through the cracks, all of which represent a shockingly high percentage of cars that are considered write-offs, in many cases with severe or structural damage.
Checks with the DVLA's databases from the last two financial years revealed that over the two years there was a discrepancy of more than 185,000 vehicles between the DVLA and MIAFTR databases – 7.5 per cent of the total number of insurance claims registered by insurance companies. It's this percentage that will show up a clean record, even if a car's been considered a Cat-S or serious structural write-off.
So how do you avoid being caught up in buying a damaged second-hand car? www.vcheck.uk is a database that registers all the salvage yard sales by registration and VIN, so if a car has been sold through a salvage yard, it will always be flagged and registered. A physical check for repair work on the chassis and bodywork, as well as the usual telltale signs like chalk marker on the underside, is the best way of avoiding one of these.