Golf GTI Bluemotion?
An interview with VW's R&D chief at Geneva revealed some interesting information...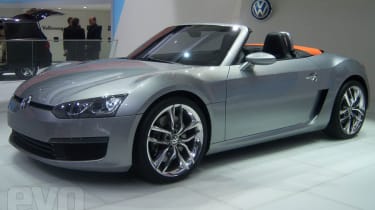 VW's big news at Geneva was the new Polo, but arguably the most interesting information came out of an interview we had with Dr Ulrich Hackenburg, VW's R&D chief.
Obviously Volkswagen's main focus is on lowering CO2 and fuel consumption – there were more Bluemotion models on the stand than you could shake a stick at – but Hackenburg told us that the eco-friendly technologies could also be applied to VW's sports models. Golf GTI Bluemotion? Don't bet against it.
However, we reckon that if it appears, it'll probably wear a Bluesport badge – a name that's already been seen on the roadster concept shown at Detroit, but absent from Geneva. It's unlikely we've seen the last of it, though. VW is currently conducting feasibility studies and if all goes well it should be on sale late in 2011, while its cross brand technology sharing means it could well end up as a SEAT, too.
We reckon it's got a 90 per cent chance of making production – VW need it to prove that, as Hackenburg put it, "we can make a connection between fun, performance and low consumption".
Expect its way to be paved by a Scirocco Bluesport as well as a eco-minded Golf GTI. However, don't get too despondent. VW is also known to be working on hotter R models of both. The Scirocco R20T concept has already been shown and a replacement for the Golf R32 is certain. However, it may well not have a V6: "what we are able to do is to make a Golf with the same performance but a smaller engine, which is anyway better for handling" Hackenburg told us. Whether it will retain 4wd is unknown at the moment.