Le Mans update: Wednesday 1pm
The latest news from the Le Mans 24 hour race as the teams prepare for first free practice session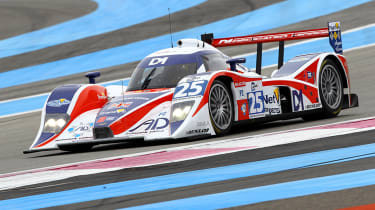 In just a couple of hours the cars will take to the track for the first practice session for this year's race and the teams are looking at a wet afternoon and a wet weekend. I've just been on the phone to Andy Wallace and he says the skies are looking heavy right now, and the airport's weather forecast system is predicting rain on Saturday right up to midnight.
Andy's buzzing, looking forward to his 21st start of this great race and he reckons mixed conditions could play into the hands of the RML squad with their LMP2 Lola HPD Coupe. But of course it massively increases the risks. 'I was driving the car on slicks in the rain at Spa,' he told us, 'and that was a real handful, but on wets and intermediates the car is very good. The trick though, is to be on the right tyres at the right time, the lap is so long that it can vary all the way around and although the inters are a good compromise they can't deal with standing water. You'll be going along thinking everything's fine and then you'll hit a puddle and the car will snap towards the barrier in an instant. The way to deal with it is to go hard on the sections of track that the tyres can cope with, and then give yourself a margin through the dangerous bits.'
It all sounds very scary, and Andy continues by explaining that it's not just the tyres they have to get right. 'We have eleven steps of downforce available on the Lola,' he explains.' In the dry at Le Mans we run level three and it takes around a minute to move to step five if the weather's bad, so you have to calculate whether you're going to lose more than a minute by sticking to the current level. To go any higher than that would take even longer, so all these things have to be worked and we'll be working on all this later today.
'Tommy [Erdos] will go first, his job is to set the car up and once he's happy Mike [Newton] will be in until he's happy, and then I'll drive for more data capture as we continue to work on the car. We have a two-hour qualifying session later [2200 – 0000] and we'll ensure all the drivers are qualified and then continue working on the programme. After all the build up it's always great to finally get in the car and begin the proper work.'
Andy and the team have been at Le Mans since Sunday going through all the admin and scrutineering checks, as well as an autograph session, when - perhaps in a portent of what's to come - the heavens opened and it bucketed down. It's all going to get very interesting.
Read the rest of our Le Mans 24-hour race news here
Join evo's Twitter, Facebook and YouTube pages