It's that time again, where we gather the greatest cars produced in the past 12 months, drive them as hard as we can, and then argue among ourselves till the small hours about which one deserves the evo Car or the Year title.
On the links below you can watch video clips of the 9 finalists hurtling through our southern France test drive. For the full 58-page article, featuring in-depth comment on every one of the contenders, get your hands on evo magazine isssue 99, available now.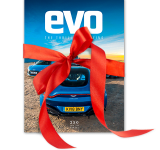 Subscribe to evo magazine
If you're passionate about the world's greatest performance cars, experience the thrill of driving with evo magazine. Try your first 5 issues for £5.
Note: evo